Crime drama Bad Lieutenant turns up on Blu-ray and DVD in September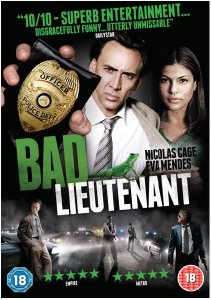 BAD
LIEUTENANT
Available on Blu-ray and DVD from September 27th, 2010
Take a walk on the wild side with two of modern cinema's greatest mavericks as the incomparable
BAD LIEUTENANT
comes to Blu-ray and DVD from
September 27th, 2010
, courtesy of
Lionsgate Home Entertainment
.
NICOLAS CAGE
(
Ghost Rider
,
Leaving Las Vegas
) delivers his most powerful performance in years as Terrence McDonagh, a New Orleans cop caught firmly on the cusp between good and bad. Having bravely taken part in a rescue that has left him in permanent pain, McDonagh is now a slave to the drugs that alleviate his condition. A dysfunctional relationship with a coke-using hooker (
EVA MENDES
,
Training Day
,
Hitch
) and a habit spiralling out of control forces McDonagh to team up with a local drug lord (
ALVIN 'XZIBIT' JOINER
,
XXX2
,
Gridiron Gang
) as he moves further and further away from the line he once vowed to protect at all costs.
Also starring
VAL KILMER
(
Kiss, Kiss, Bang, Bang
,
The Ghost & The Darkness
) and directed by the legendary
WERNER HERZOG
(
Grizzly Man
,
Fitzcarraldo
), making his first major American movie,
BAD LIEUTENANT
is a tour-de-force and instant classic, combining blistering action, surreal comedy and gripping drama to deliver one of the most memorable experiences of the year.
Firmly re-establishing both Herzog and Cage as true icons,
BAD LIEUTENANT
is an immediate must-see classic even more-so considering the wealth of extra features that have been packed onto both the DVD and Blu-ray editions!
Release Information:
Release Date: September 27th, 2010
Credit: Lionsgate Home Entertainment
Genre: Action / Crime / Drama
Cert: 18
RRP: £17.99 (DVD)/£24.99 (Blu-ray)
Retail Cat Number: LGD94263/LGB94263
Barcode: 5060052419507/5060052419521
Extras: Interviews with cast & crew
Making of