British black hit-man comedy The Liability hits DVD and Blu-ray this May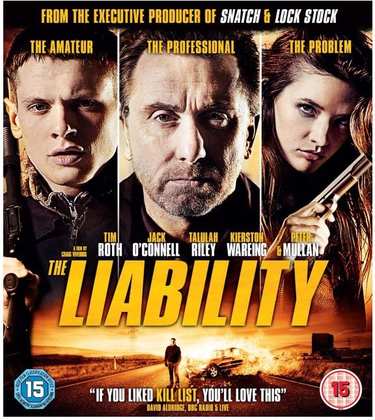 Metrodome Distribution
have announced the release of black comedy thriller
The Liability
for 27th May on both DVD and Blu-ray. Directed by Craig Viveiros, the screenplay was written by John Wrathall.
Starring Tim Roth, Jack O'Connell, Peter Mullan and Talulah Riley, expect a recommended retail price of £14.99 for the HD version and £13.99 for the SD release. Alas we have no more details but hay, it's a recent movie so it's going to be just fine.
Synopsis and trailer follow...
A veteran assassin dreaming of retirement is paired with an eager young driver on a mission to carry out a long-distance hit job.  After crashing his gangster stepfather's prize car, Adam is forced to repay the debt by teaming up with professional hit man, Roy, to act as driver on what should be a swift and easy mission.
Whilst Roy desperately wants to leave the killing game, Adam develops into an enthusiastic and aspirational hit-man.  The pair take a road trip ending deep in a forest, far away from home.
Roy executes the target with ruthless efficiency only for the duo to then realize they've been caught in the act. A beautiful, mysterious young woman has witnessed the murder and professional code dictates that she must also now be dispatched.
As the two men deliberate over killing her, their witness makes her escape with an incriminating piece of evidence. Thus begins a cat and mouse chase that ultimately reveals the sinister reason for Adam's stepfather having commissioned the deadly hit and the true identity of their witness and her reasons for seeking retribution on the gangster.