Chinese disaster movie Aftershock arrives on DVD in December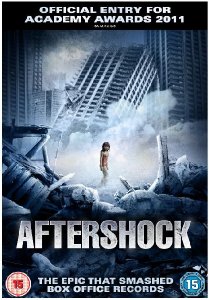 AFTERSHOCK
Witness the most destructive force in the world
DVD Release date: 27th December 2010
DVD RRP: £19.99 / Cert: 15
$100 Million Box Office Worldwide!
Having already gathered a staggering $100 million worldwide at the international box office this year,
AFTERSHOCK
now comes to UK in spectacular style. Combining awe-inspiring special effects that leave Hollywood gasping for breath and affecting central performances from the cast,
AFTERSHOCK
is a force to be reckoned with.
In Tangshan in 1976, two seven-year-old twins lie buried under the rubble of a devastating earthquake. The rescue team explains to their mother, Li Yuanni that freeing either child will almost certainly result in the death of the other. Forced to make the most difficult decision of her life, she finally chooses to save her son Fang Da, the male twin.
Although left for dead, the female twin, Fang Deng miraculously survives for several more days before being pulled clear of the wreckage by another rescue team who believe that she has succumbed to the terrible disaster.
As she wakes up in the pouring rain, suffering from the emotional shocks of the disaster and the painful memory of her mother's choice, Fang Deng decides to hide her true identity from the world and begins an emotional journey which will take her across the globe and force her to confront demons within herself.
Already one of the highest-grossing disaster movies of all time,
AFTERSHOCK
is a dazzling cinematic achievement.
Please note there are no extra features on this disc.