Martial arts action in True Legend on Blu-ray and DVD this October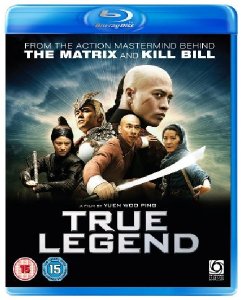 TRUE LEGEND
In cinemas 24th September 2010 in 3D
On 2D DVD, Blu-ray and digital download from 25th October
2010
It's time for a kung-fu feast as
TRUE LEGEND
comes to cinemas in 3D on
24th September 2010
, followed by the 2D release on DVD, Blu-ray and digital download from
25th October 2010
. The world-renowned and critically acclaimed martial arts choreographer and director
Yuen Woo Ping
(
The Matrix Trilogy
,
Kill Bill 1 & 2
,
Crouching Tiger, Hidden Dragon
) returns for an action packed frenzy centered on the life of Chinese folk hero Su Qi-er.
Serving up non-stop action with a cast led by bond girl
Michelle Yeoh
(
Crouching Tige
r,
Hidden Dragon, Memoirs of a Geisha
) and including
Vincent Zhao
(
Once Apon a Time in China
,
Blue Encounter
),
Xun Zhou
(
The Message
,
The Banquet
) and
Jay Chou
(
The Green Hornet
,
Curse of the Golden Flower
).
TRUE LEGEND
is kinetic, fast moving and fun, with some incredibly imaginative choreography making the most of its set pieces.
Su Qi-Er retired from his life as a renowned Qing dynasty general in order to pursue his dream of a family and his own martial arts school. However, Su's peaceful life is shattered when his vengeful adopted brother, Yuan Lie, kidnaps his son and leaves Su for dead. Saved from death by his wife Ying and the reclusive doctor Yu, Su resolves to perfect his technique so that he may defeat Yuan Lie and reunite his family. Aided by the mystical "God of Wushu" and the eccentric "Old Sage," Su masters the art of Drunken Boxing, and embarks on the path that will eventually give rise to the legend of the 'King of Beggars.'
Yuen Woo Ping
is Hong Kong's most famous and lauded action choreographer and is responsible for some of the most amazing martial arts sequences ever seen on screen. Previous to
TRUE LEGEND
, Ping'slast directorial feature length effort dates 14 years back, making
TRUE LEGEND
a remarkable comeback and a must-see for any martial arts super fan!
-ENDS-
Release Information
Format: DVD / Blu-ray & DVD Combipack / Digital Download
Cert: 15