Series 5 of classic TV show The Avengers out to buy now on DVD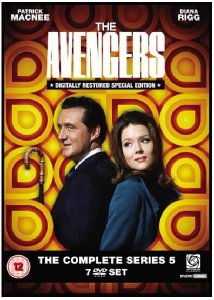 THE AVENGERS:
THE COMPLETE SERIES 5
Out to own on DVD - 25th October 2010
It's time to celebrate 50 years of a show that defined 1960s television as
The Avengers: The Complete Series 5
is high-kicking onto DVD from
25th October 2010
, courtesy of Optimum Home Entertainment.
As the fifth series of the definitive spy-fi series
The Avengers
hit screens in 1966 in the UK and 1967 in the US, John Steed (
Patrick Macnee
) and Emma Peel (
Diana Rigg
) were called to duty for some challenging missions. This series was also the first to be filmed in colour, three whole years before ITV began full colour broadcasting.
Series 5
also tackles more futuristic storylines of an increasingly sci-fi bent. For example, key highlight episodes from this series include 'Mission...Highly Improbable" as the duo deal with being shrunk to doll size, 'The Hidden Tiger' as pet cats are electrically altered into ferocious and lethal miniature tigers, 'Return of the Cypernauts' as Patrick and Mrs. Peel fight off killer automata, mind transferring machines in 'Who's Who???' and invisible foes in 'The See-Through Man'.
The Avengers was the longest running espionage series produced for English-language television and reached audiences in 120 countries, a record that still stands to this day!
The Avengers: The Complete Series 5
is out on DVD on 25th October and features the first full restoration of all episodes*. It's time to relish in the full-coloured expanded wardrobes, lavish sets, top notch scriptwriting and stories that benefit from the combined input of writers, directors and actors all at their peak.
The Avengers: Series 1, 2, 3 and 4
are also currently available to buy on DVD from Optimum Home Entertainment.
The Avengers: A Celebration
is a glorious visual tribute to mark the 50th anniversary of the show and is available from 29th October from Titan Books.
-Ends-
Release Information - Series 5 (1966-1967)
Format: DVD
Cert: PG
Running Time: 1,127 minutes approx
Aspect Ratio: 4:3
Language: English
Cat no: OPTD1751
RRP: £59.99
Special Features: Audio commentary by script writer / producer Brian Clemens on Murdersville
Audio commentary by guest star Peter Wyngarde on Epic
Audio commentary by script writer Richard Harris on The Winged Avenger
Audio commentary by Diana Rigg's stunt double Cyd Child on Return of The Cybernauts
Archive German TV interview with Patrick Macnee and Diana Rigg
Episode trims from The Fear Merchants, Escape In Time, From Venus With Love and The See-Through Man
The Avengers - A Retrospective (documentary)
ATV newsreel footage (Diana Rigg receives TV Award)
The Avengers - "They're Back" archive trailer
Filmed episode intro by Brian Clemens to The Bird Who Knew Too Much, The Living Dead, Epic, The Correct Way To Kill, The Superlative Seven, A Funny Thing Happened On The Way To The Station, The Joker and Murdersville
Granada + points for each episode
Episode Reconstructions for lost series 1 episodes One For The Mortuary, Death on The Slipway, Tunnel of Fear and Dragonsfield
1960s German Titles
Insert reprint of series 5 promotional brochure
Stills gallery for featured episodes
PDF material
*
While every effort has been made to secure the best source material, imperfections commensurate with the age of materials may be evident, despite full digital restoration