Guillermo Del Toro Triple Blu-ray Box Set arrives October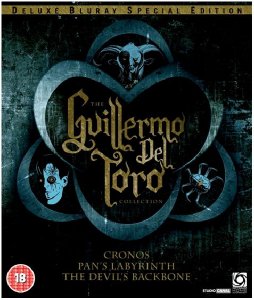 GUILLERMO DEL TORO
BLU-RAY TRIPLE BOXSET
Prepare to be astounded with the upcoming Blu-ray release of Guillermo Del Toro's ultimate collection on the
25th October 2010
courtesy of Optimum Home Entertainment
"Cronos, a unique, terrifying mini-masterpiece" Empire
"Pan's Labyrinth, compelling from first to last" BBC
"The Devil's Backbone, both chilling and rewarding" Film Four
Mexican director Guillermo Del Toro is recognised as one of the world's most spectacularly inventive filmmakers, balancing visually stunning blockbusters (
Hellboy
and
Blade 2
) with smaller, personal projects such as the three revolutionary films brought together in this Blu-ray collection-
THE DEVIL'S BACKBONE
,
PAN'S LABYRINTH
and his debut feature,
CRONOS
. All three picture masters for this triple boxset special were supervised and approved by Guillermo himself and the effect is a visually enchanting masterpiece.
In each of these three beautifully haunting films, Del Toro weaves together black fairy tales with bleak reality. Guillermo has given film fans some of the most intelligent films in modern cinema and this box set perfectly showcases truly incredible talent.
Delve even deeper into the magical fairytale horror of the
Guillermo Del Toro Collection
with fabulous DVD extras such as behind the scenes footage, cast and crew interviews, featurettes aplenty and audio commentary from Guillermo himself.
CRONOS
The earliest of the movies in the box set is the acclaimed
Cronos
. Released in 1993, it's an inventive and compassionate reworking of vampire mythology, a story of family loyalties as well as alchemy and vampirism.
An old antiques dealer, Jesus Gris, finds a mechanical device called the "Cronos device." Whilst holding the Cronos it springs open and its metallic legs pierce Jesus' flesh. Once "bitten," he develops a craving for human blood, and his body grows more and more youthful with each drink. As the addiction spreads through his body, he realises he desires the blood of his innocent granddaughter...
Cronos
is peculiarly compassionate, approaching the question of immortality poetically as well as horrifically and humorously.
Blu-ray Extras
:
New extra
Geometria
short film,
New extra
: Guillermo Del Toro interview,
New extra:
Director's notes, Gallery, Guillermo Navaro interview, '
Guillermo Del Toro audio commentary and Original Del Toro interview.
THE DEVIL'S BACKBONE
2001's
The Devil's Backbone
is a deliciously dark horror that tells the tale of a remote Spanish orphanage during the final days of The Spanish Civil War. Its young inhabitants are brutally terrorised by a spirit that stalks the building's dark decaying hallways. A story of orphan children battling for survival against the spirit-world building up to a grisly, explosive finale where the children unravel the truth behind the spirit's haunting.
Blu-ray Extras
:
New extra:
Video Prologue by Guillermo Del Toro,
Of Ghosts And Fauns
: Del Toro's Spanish Civil War, Behind the scenes featurette, Special effects, Trailer, Storyboards, Biogs and Guillermo Del Toro audio commentary.
PAN'S LABYRINTH
Pan's Labyrinth
, released in 2006 to critical acclaim, mingles real life politics and social drama with fantasy and magic to create a masterpiece of modern cinema. An imaginative gothic fairytale for adults set in Spain during World War II, Pan's Labyrinth is a beautiful, charming, graphic and deadly story of a young girl's journey to her own fantasy world, created in order to escape a cruel and harsh reality. Entering a mysterious and enchanting world of fairies, fauns and giant frogs, she is told she must accomplish three gruesome, assignments before being able to see her father again.
Blu-ray
Extras
:
New extra
: Motion comics, Video Prologue by Guillermo Del Toro, The Guardian Interview at the NFT with Guillermo Del Toto,
The Power of Myth
, DVD Comic Sketches: The Pale, the Fairies, the giant Toad and Pan,
El Fauno y Las Hadas, The Colour and the Shape,
Storyboard/thumbnails, VFX Plate Compare: Guillermo Del Toro and the Green Fairy, Director's Notebook, The Melody Echoes the Fairy Tale, Mercedes' Lullaby, Poster Gallery and Trailer.
Box-set Tech specs
Format: Region 2 - Retail/Rental Blu-ray 3 disc
Cert: TBC
Running Time: TBC
Aspect Ratio: TBC
Colour: TBC
Audio: TBC
Language: TBC
Cat no: TBC
RRP: £74.99