Comic strip action flick The Losers is out on DVD and Blu-ray in October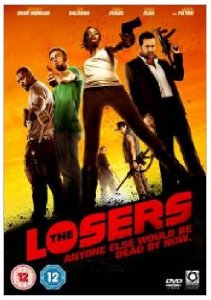 THE LOSERS
Out to own on DVD, Blu-ray and Digital Download - 11th October 2010
Set your target on
THE LOSERS
which blasts onto DVD and Blu-ray from
11th October 2010
courtesy of Optimum Home Entertainment.
THE LOSERS
is the ultimate action-comedy based on the comic of the same name and written by acclaimed Marvel writer
Andy Diggle
.
THE LOSERS
benefits from a super-charged all-star cast including
Jeffrey Dean Morgan
(
Watchmen
,
Supernatural
),
Zoe Saldana
(
Avatar, Star Trek
),
Chris Evans
(
Fantastic
Four
,
Captain America
)
Iris Elba
(
Thor
,
The Wire
) and
Óscar Jaenada
(
Pirates of the Caribbean: On Stranger Tides
,
Che: Part Two
), who form an elite United States Special Forces team sent to the Bolivian jungle on a search-and-destroy mission.
In a tale of double-cross and revenge, the team - Clay (Morgan), Jensen (Evans), Roque (Elba), Pooch (
Columbus Short
-
Death at a Funeral
,
Cadillac Records
) and Cougar (Jaenada) - find themselves the target of a lethal betrayal instigated from inside by a powerful enemy known only as Max (
Jason Patric
-
The Lost Boys
,
My Sister's Keeper
). Presumed dead, the group makes plans to even the score when they're joined by the mysterious Aisha (Saldana), a beautiful operative with her own agenda. Working together, they must remain deep undercover while tracking the heavily-guarded Max, a ruthless man bent on embroiling the world in a new high-tech global war.
It's time to join
THE LOSERS
before they hunt you down first!
For all those fans of
THE LOSERS
there will be two limited edition Blu-ray and DVD combipacks. One will include a Losers comic and the other will include special artwork designed and printed by animator Jock.
Release Information
Format: DVD / Blu-ray & DVD Combipack / Digital Download
Cert: 12
Running Time: 92 minutes/ 93 minutes
Language: English
Cat no: OPTD1820 / OPTBD1820
Aspect Radio: 2.35:1
RRP: £17.99 / £23.99