The Story of F*** arrives on DVD this October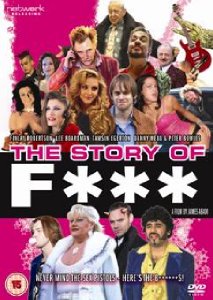 BITING BRITISH MUSIC INDUSTRY ROM-COM SATIRE
"THE STORY OF F***"
(15)
SET FOR UK DVD DEBUT
"The Music Industry is a cruel and shallow money trench where thieves and pimps run free and good men die like dogs. There is also a negative side." (Hunter S Thompson)
Lewis Sipricosh (Finlay Robertson -
How Not to Live Your Life
) is a frustrated A & R at Kosmos Records looking for the next big act to impress his deranged and depraved music boss. Aided by his beautiful assistant Daisy (Tamsin Egerton -
St Trinians
) they decide to create and unleash a band called F*** on UK music lovers - the problem is that F*** can't sing or play instruments... but when has that ever stopped a manufactured band from being successful?
This film is THE STORY OF F***, a snappy satire about the music industry from first time film-making cousins Adam and James Abadi featuring sex, drugs, alien abduction and crocodiles! The film also stars Jo Absolom, Ameet Channa, Andrew Thomas Jones, Pete Bennett and cult transgender actor and producer Desire Dubounet in her first major film role. Dubounet also financed this slick, edgy movie unashamedly aimed at the "Skins" and "Big Brother" generations as well as fans of irreverent comedies such as
Amazon Women on the Moon
.
THE STORY OF F*** is available for the first time on 11th October 2010, RRP £15.99.
Special Features
· Official Trailer.
NOTES TO EDITOR
THE STORY OF F**** (15) is a Network Releasing title
Release date: 11th October 2010
RRP £15.99
No. of Discs: 1
Running Time: 84 minutes
Catalogue number: 7953472