The Back-up Plan with Jennifer Lopez hits Blu-ray and DVD in September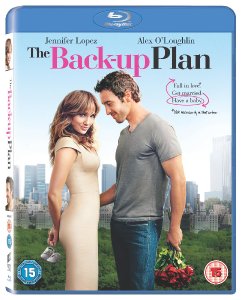 Fall in love. Get married. Have a baby. Not necessarily in that order.
The Back-up Plan
The Sexy and Captivating Romantic Comedy
Starring Jennifer Lopez and Alex O'Loughlin
Available on Blu-ray™ and DVD on September 20
London
, UK
. 09/07/10
-
Film and music superstar Jennifer Lopez (
The Wedding Planner
) returns to the big screen in
The Back-up Plan,
coming to Blu-ray and DVD on September 20, courtesy of Sony Pictures Home Entertainment.
The film, directed by Alan Poul (TV's "Six Feet Under")
,
and introducing charming newcomer Alex O'Loughlin (TV's upcoming "Hawaii Five-O"),is anunconventional tale about finding love, marriage and a baby - but not strictly in that order. Both the Blu-ray and DVD versions contain never-before-seen deleted scenes and exclusive bonus features including an all-new "Belly Laughs: Making
The Back-up Plan
" featurette.
Synopsis:
Jennifer Lopez stars as Zoe, a single New Yorker who dreams about meeting Mr. Right, having a baby and living happily ever after. But after a string of Mr. Wrongs, Zoe commits to her back-up plan: to take on motherhood alone. Zoe's plan proves far from foolproof when moments after her procedure she's swept up in a whirlwind romance with Stan (Alex O'Loughlin), the man of her dreams. Can Zoe hide her pregnancy until Stan is ready for the truth? Or will the truth send him packing?
The Back-up Plan
is a hilarious romantic comedy about courtship, love, marriage and parenthood - but not necessarily in that order!
The Blu-ray Disc also features
movie
IQ™+
sync,
a new and immersive BD-Live movie watching experience that uses a connected real-time movie database. With a
movie
IQenabled Blu-ray Disc and an internet connected Blu-ray player, movie fans can dive into continuously updated information on cast and crew while exploring relevant trivia such as production facts, music and soundtrack information, all tied to scenes within the movie. Additionally,
movie
IQ+
sync
gives viewers the full
movie
IQ experience on their computer or iPhone by linking to the Blu-ray disc. CBS Films'
The Back-up Plan
will be available on DVD for RRP £17.99 and on Blu-ray for RRP £22.99
Blu-ray & DVD Special Features include:
Deleted Scenes

Belly Laughs: Making The Back-up Plan

featurette
Blu-ray Exclusives:
movie

IQ+sync™ and BD-Live™, which connect you to real-time information on the cast, music, trivia and more while watching the movie!
Visit Sony Pictures Home Entertainment on the Web at
www.sonypictures.com
The Blu-ray Disc™ version of
The Back-up Plan
is BD-Live enabled, allowing users to get connected and go beyond the disc via an Internet-connected Blu-ray player and download content.
PRODUCT INFORMATION
Release Date
20 September, 2010
Format
Retail Blu-ray, Retail DVD
RRP
Blu-ray: £22.99, DVD: £17.99
Certificate
12
Genre
Comedy
Running Time
100 minutes