The romcom Leap Year with Amy Adams hits DVD and Blu-ray in July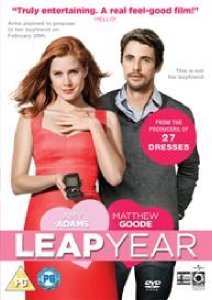 LEAP YEAR
OUT ON DVD, BLU-RAY & EST FROM 12TH JULY 2010
WHEN LIFE SURPRISES YOU DON'T BE AFRAID TO TAKE A LEAP OF FAITH
Amy Adams
(
Enchanted,
Julie and Julia
) is Anna Brady in the charming romantic comedy
Leap Year
out to own on DVD and Blu-ray from
12th July 2010
courtesy of Optimum Home Entertainment
.
According to Irish tradition, a woman can propose to a man on Leap Day and that is exactly what Anna plans to do in Dublin! However, once she sets off for Ireland, Anna discovers her trip is going to be anything but simple!
Anna's journey to propose to her boyfriend Jeremy (
Adam Scott
) becomes a race against time and, determined not to miss Leap Day, Anna enlists the help of surly, Irish innkeeper, Declan (
Matthew Goode
) to taxi her across the country to Dublin. Hilarious events unfold as the pair find themselves facing a variety of obstacles! Tensions arise, however, when Anna begins to question her feelings for Jeremy when she realises she has made an unlikely connection with Declan.
Will Anna propose in time and more importantly, who will she choose?
Extras: On the Set of Leap Year / Deleted scenes / Trailer
Tech specs
Format: Region 2 - Retail/Rental Blu-ray disc, DVD |& EST
Cert: PG
Running Time: 96 mins approx
Aspect Ratio: 2: 35: 1
Colour: Colour
Audio: Dolby Digital 2.0 & 5.1
Language: English
Cat no: OPTD1803 / OPTBD1803
RRP: £19.99 (DVD) / £24.99 (Blu-ray)
Copyright line: © 2009 Universal Studios and Spyglass Entertainment Funding, LLC. Distributed by Optimum Releasing Ltd. Artwork © 2010 Optimum Releasing Ltd