Romcom Stay Cool with Hilary Duff, Sean Astin and Winona Ryder hits DVD in January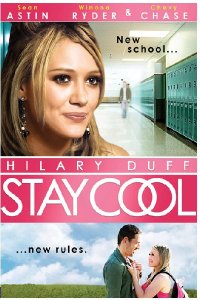 STAY COOL
DVD & Blu Ray Release date: 30th January 2012
Running Time: 89 Minutes DVD RRP: £15.99 Cert: TBC
STARRING HILARY DUFF, SEAN ASTIN & WINONA RYDER
A raucous romantic comedy about the laughs, loves and losses of the high school experience,
STAY COOL
features an all star cast and a side-splitting, heart-warming story that will stay with you well after the last bell of term...
Henry, a 30-something author of a popular novel, returns to his hometown to deliver a speech at his former high school. Despite his success Henry's return home has sparked all of the youthful dreams, desires and disappointments he's never quite gotten over.
Between run-ins with the principal, the friends he left behind and a seductive senior who clearly has the hots for him, Henry is sent spinning through a time warp that incites all the old emotions and challenges of the world he grew up in.
Will he be able to
STAY COOL
and make it out in one piece?