Snowboarding comedy drama Chalet Girl comes to Blu-ray and DVD this October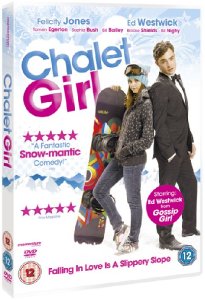 Chalet Girl
Available on DVD and Blu-ray from 3rd October 2011
19 year old Kim Matthews (
Felicity Jones
) is working in a fast-food restaurant, and looking for a purpose in life when she unexpectedly lands a job as a chalet girl in a glitzy ski resort in the Alps.
Assigned to live and work in the luxury chalet of successful businessman Richard Masden (
Bill Nighy
), Kim spends her days cooking, cleaning and catering and immersed in a world of wealth, fun and endless parties. Utterly baffled by their way of life and finding it hard to grasp the rules and be accepted by her posh co-worker Georgie (
Tamsin Egerton
), she quickly finds herself way out of her depth.
To make matters worse, Kim finds herself falling for her boss's son Jonny, (
Ed Westwick
). Gorgeous, charming and talented there's just two problems -Jonny's ice-princess girlfriend Chloe (
Sophia Bush
) and his scheming mother (
Brooke Shields
.)
With few friends to turn to, Kim takes to the slopes where she discovers the thrills of snow-boarding and a natural talent. Filled with a new found confidence she enters the resort's biggest Pro-boarding event of the year.
As the competition draws nearer and Jonny and Kim grow closer it looks like her luck is finally changing. But Jonny's family have other plans for his future and those could turn Kim's world upside down.
Packed with breathtaking snowboarding action and stunning locations, CHALET GIRL is a hilarious and touching story about finding your talent, staying true to yourself and achieving your dreams.
RELEASE DATE: 3rd OCTOBER
CERTIFICATE: 12 (TBC)