Moving road trip comedy drama Come As You Are pulls up onto Blu-ray and DVD in October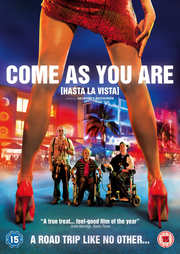 Foreign cinema often manages to cover the sort of territory that mainstream releases avoid, and it's always great to see the likes of
Eureka Entertainment
bring us a comedy drama rooted somewhat deeper in reality than your average Hollywood affair.
Which brings us neatly on to
Come as You Are
(aka
Hasta La Vista
) from Flemish director Geoffrey Enthoven, written by Pierre De Clercq and based on the real life experiences of Asta Philpot.
Starring Tom Audenaert, Robrecht Vanden Thoren, Gilles De Schryver and Isabelle de Hertogh, this arrives on both DVD and Blu-ray this coming 7th October, priced at £14.99 on both formats. Yes you heard right, no HD inflation here!
With the Blu-ray including a 5.1 DTS-HD Master Audio soundtrack, both include optional English subtitles, SDH subtitles, descriptive audio track for the blind and partially sighted, trailer, making-of documentary, interview with Philpot and three short films from British charities representing each of the main characters' disabilities.
Synopsis and trailer follow...
Three good friends: almost blind Jozef, paraplegic Philip, and partially paralyzed and terminally ill Lars, announce to their parents, who they rely on for assistance in their daily lives, that they plan on taking a road trip alone. Of course that's just a cover for their true destination, a Spanish brothel that specialises in 'people like us'.
When their parents inevitably object, the three boys make plans in secret, and find a chaperone from Brussels named Claude, an intimidating French speaking ex-con woman who they eventually warm up to.