Golden oldies from Odeon Entertainment out in October on DVD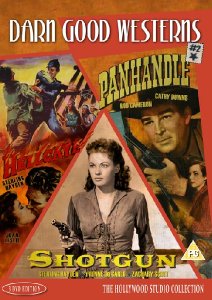 Darn Good Westerns

Release Date:
31/10/11
Cat No:
ODNFB024
Barcode:
5060082517242
Cert:
PG (TBC)
Running Time:
250 Mins Approx
Directors:
Charles Marquis Warren and Lesley Selander
First UK DVD release of this cracking western boxset
Three great westerns on Three DVD's
Starring: Sterling Hayden, Rod Cameron, Cathy Downs and Yvonne de Carlo
(1948) (1952) (1955)
Shotgun
Ben Thompson (Guy Prescott) is looking to kill Deputy Marshal Hardin (Sterling Hayden) and his mentor, Fletcher, for putting him in prison.
Hellgate
As the Army closes in on renegade Confederates who refuse to abide by Civil War peace agreement, peaceful veterinarian Gil Hanley finds himself caught between these unforgiving combatants.
Panhandle
South-of-the-border trading post owner John Sands has a secret past. Once a respected lawman, Sands soon became a gun slinging outlaw.
When You Come Home
Released:
31st October 2011
Cat No:
194759
Barcode:
5060172960590
Cert:
TBC
Running Time:
Approx 89 mins, Bonus Feature 16 mins
The First Ever DVD release of this 1945 comedy drama which bonus short feature Randle & All That
Directed By: John Baxter
Starring: Frank Randle, Leslie Sarony, Leslie Holmes and Diana Decker
"Starring Frank Randle - The King Of Twist"
Born at 50 Wigan Road, Aspull, Greater Manchester on 30th January 1901. Frank was a childhood friend of George Formby and both of them went on to become legends of their time. Frank was just 15 when he first appeared in the theatre as an acrobatic artist (under the name Arthur Twist). It wasn't until 15 years later though that he achieved great popularity as a music hall comedian, whose wild and manic temperament brought a new style of quite risqué, if not downright vulgar comedy to the stage. For ten years Frank Randle ran his own touring company, Randle's Scandals, which played to big audiences all over the country, including headlining Blackpool's distinguished summer-season show. By 1950 he was Britain's highest paid comedian.
When You Come Home is Randle's 7th Feature Film. This 1948 Butchers production directed by John Baxter, who was a very sympathetic director with social awareness - Love on the Dole and The Common Touch were good examples, and in this film he brought out another level of Randle's acting ability, other than the usual slapstick. Grandad (Randle) recounts to his grandaughter, his life as a music hall odd job man - a must for all Randle fans.
BONUS EXTRA FEATURETTE Randle & All That - Very rare and once thought to be lost, a short variety show of musical and comedy delight, starring Frank Randle who plays an 82 year old cobbler. Also featured are comedy song and dance artists, Arnley and Gloria and the Tumble Duo of Donavon and Byl's.



Black Rider/Glad Tidings
Released:
31/10/11
Cat No:
194758
Barcode:
5060172960583
Cert:
TBC
Running Time:
131 mins
The First Ever DVD release of these 1950's dramas as a special edition double bill
Both Directed By: Wolf Rilla
Starring: Jimmy Hanley, Rona Anderson, Lionel Jeffries, Barbara Kelly, Raymond Huntley and Ronald Howard
Two Rare Films Directed by Wolf Rilla (Village Of The Damned) Including Rilla's Directing Debut
Black Rider
Jimmy Hanley stars in this 1954 production filmed at Nettlefold studios, Walton. Directed by Wolf Rilla (Village of the Damned) and with a strong British cast, local reporter Jerry (Hanley) is out to prove the ghostly monk is infact very real, with bosses daughter (Rona Anderson) the pair career around the countryside on Jerry's motorcycle in pursuit of the "monk"... Fast paced enjoyable caper picture and sound of good quality.
Glad Tidings
This Insignia 1953 production was written and directed by Wolf Rilla from a play by R.F Delderfield. Made at Nettlefold studios,Walton, it was Wolf Rilla's debut film. Col Tom Forester, (Raymond Huntley) is about to retire from the army and marry an american widow (Barbara Kelly who was married in real life to Bernard Bradon) - but his children object and Barbara must use all her skills to survive! Raymond Huntley performed in 136 productions including The Dam Busters and Room At The Top.