True story based The Bang Bang Club comes to DVD this October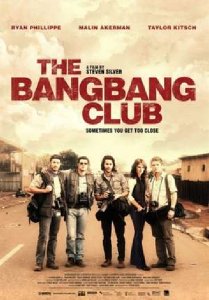 The Bang Bang Club
One picture can change the world.
Released by Entertainment One on Monday 3rd October 2011
The Bang Bang Club
is based on the true story of four remarkable photographers taking iconic and shocking pictures in South Africa during the last days of the apartheid. Their gripping and often harrowing stories are captured in this thought provoking film, which is released exclusively on DVD through
Entertainment One
on
Monday 3rd October 2011.
Set in 1994, The Bang Bang Club, is made up of four young South African men, Greg Marinovich (
Ryan Phillippe
-
Cruel Intentions, I know what you did last Summer
), Kevin Carter (
Taylor Kitsch
-
X Men Origins - Wolverine
), Ken Oosterbroek (
Frank Rautenbach
) and João Silva (
Neels Van Jaarsveld
), as they set out to capture some of the best, yet horrific pictures of their lives - in some of the most hostile and turbulent places in the world.
Greg is a freelance photographer who follows his instincts to capture the 'rebels' point of view; during his time in Soweto he meets Kevin, Ken and João who work for the national newspaper The Star - impressed with Greg's initiative and photographs, the Picture Editor Robin Comley (
Malin Akerman
-
The Proposal, Watchmen
), offers him a job.
Working closely together, the four men become known as The Bang Bang Club and photograph the chaos and intense fighting that takes over the streets between the opposing factions. As the fighting intensifies so do the pictures, with Greg winning a Pulitzer Prize for an image of a Zulu man on fire but only to be used as propaganda by the Government. With tension and violence increasing between Government and Rebels, the four men have to decide how much they are willing to sacrifice in pursuit of the perfect shot?
The film is based on the auto-biographical book
The Bang-Bang Club: Snapshots from a Hidden War
which is co-written by Greg Marinovich and João Silva; to illustrate the desperate and dangerous situation they faced the film incorporates some of the most brutal pictures from the book.
Steven Silver
is the director, writer and producer and he started his film career in South Africa before moving to Canada where he went on to co-produce and write the documentary
Gerrie & Louise
which earned him an International Emmy. Other social political issues that Steven has featured in films/TV
Documentaries Stories from the War Zone, H5N1: Killer Flu
- Part of
Wide Angle
and
The Last Just Man
which is about the Rwanda Genocide.
The Bang Bang Club has featured at a number of film festivals around the world including, Edinburgh Film Festival, UK, June 2011, Toronto Film Festival, Canada, September 2010, Pusan International Film Festival, South Korea, October 2010 and Torino Film Festival, Italy, November 2010.
The Bang Bang Club
is available to buy on DVD from
Monday 3d October 2011.
All Rights Reserved. Packaging © Entertainment One 2011.
- Ends -
DVD Details
Release date:
3rd October 2011
Running time:
94 mins approx
Format: DVD
Cert: 15 TBC
Cat No: EO51515
Barcode:
5030305515157
RRP: £12.99
Extras: The Making of, Mongake Edit