Bertrand Tavernier directed romantic epic The Princess of Montpensier comes to Blu-ray and DVD this October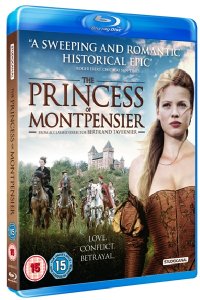 From the director of

Round Midnight,
Coup de Torchon
and

It All Starts Today,
The Princess of Montpensier
"An intelligent historical epic with a vigorous modern sweep"
****
DAILY EXPRESS
"Handsomely mounted and rousingly acted out"
EVENING STANDARD
"Attractive costumes and scenery added to a stirring story of romance and rivalry"
DAILY STAR
Based on a story by Madame de Lafayette
Directed by Bertrand Tavernier
Starring Mélanie Thierry, Gaspard Ulliel, Lambert Wilson and Grégoire Leprince-Ringuet
Out To Own On DVD, BLURAY &
October 31st, 2011
1562. In France, during the reign of Charles IX, the wars of religion are raging...
Marie de Mézières (MELANIE THIERRY:
Babylon A.D.
), heiress to one of the kingdom's greatest fortunes, loves the young Duc de Guise (GASPARD ULLIEL:
Hannibal Rising
), known in the annals of history as Le Balafré ("Scarface"). She believes he loves her back. To increase his family's prestige, her father, the Marquis de Mézières forces Marie to marry the Prince de Montpensier (GREGOIRE LEPRINCE-RINGUET:
Love Songs
), whom she has never met.
The Prince is summoned by Charles IX to join the war against the Protestants. With the whole country turned into a bloody battlefield, he sends his young wife to Champigny, one of his most secluded castles, in the company of the Comte de Chabannes (LAMBERT WILSON:
Of Gods and Men
), his friend and former tutor. The Prince asks Chabannes to complete the Princess's education so that she can take her place at court one day.
In unhappy isolation at Champigny, Marie tries to forget the passionate longing she still feels for Guise. Fate and the changing course of the war lead Guise and the Duc d'Anjou (RAPHAEL PERSONNAZ:
Blame it on Fidel
), the future Henri III, to stay at Champigny shortly after Montpensier has joined Marie there. In turn, Anjou falls in love with the Princess, to whose charms Chabannes has also succumbed.
A violent, passionate rivalry develops with Marie as the prize.
THE PRINCESS OF MONTPENSIER was nominated for the Palme D'Or at the Cannes Film Festival 2010.
Extras:
Making Of
DVD Tech specs: Cert: 15 / Total running time: 140 mins / Region 2 / Feature Aspect Ratio: 2.35:1 / Colour PAL / Audio: Dolby Digital 5.1 & Stereo 2.0 / French language with English subtitles/ Cat No: OPTD2023 / RRP: £17.99
BLURAY Tech specs: Cert: 15 / Total running time: 140 mins / Region B / Feature Aspect Ratio: 2.35:1 / Colour PAL / Video: BD50 / AVC / 1080p / Feature Audio: DTS HD Master & Stereo 2.0 / Audio Codec: DTS HD / French language with English subtitles/ Cat No: OPTBD2023/ RRP: £22.99