Rachel Ward's directorial debut Beautiful Kate out on DVD in October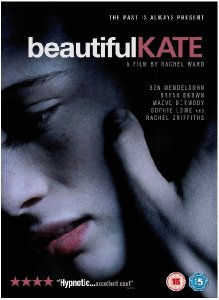 BEAUTIFUL KATE
AVAILABLE ON DVD FOR THE FIRST TIME
FROM 25TH OCTOBER
"Ward has produced one of the most exquisite Australian films in recent memory"
Time Out
"Ward delivers an astonishingly sensitive, hypnotic adaptation"
Empire
Award winning actress Rachel Ward's stunning and handsome directorial debut, Beautiful Kate will be released on DVD for the first time on 25th October.
Recognised with numerous nominations at the 2009 AFI Awards, including Best Film & Best Director,
Beautiful
Kate
is courageous and incredibly beautiful in its narrative and visual style, encompassing everything that is great about Australian cinema today.
Beautiful Kate
is based on the novel by American author Newton Thornburg, (Cutter and Bone).
Beautiful
Kate
boasts a cast of some of Australia's strongest acting talent with acclaimed leading actor
Ben Mendelsohn (Knowing, The New World)
starring as Ned, a writer returning home cross-country, to see his dying father Bruce played by Golden Globe nominated
Bryan Brown (Australia, Dean Spanley, Cocktail, The Thorn Birds)
and carer sister Sally played by Oscar nominated
Rachel Griffiths (Brothers & Sisters, Muriel's Wedding)
. Having deserted the family home twenty years previously, Ned's return opens old wounds and awakens long buried secrets from the past.
Set in Australia's mesmerising and captivatingly beautiful outback,
Beautiful
Kate
is in essence an intense and tragic love story about the sexual awakening of three siblings growing up in isolation. Told in the parallel narratives of past and present, returning to the family home with his much younger fiancée Toni, played by rising star
Maeve Dermody (Black Water)
, Ned is forced to confront the realities surrounding the dramatic death of his twin sister Kate, played by newcomer
Sophie Lowe
, when she was 16. As memories from his youth come flooding back, it becomes apparent that their sibling intimacy had crossed over into a physical relationship, haunting him with the inescapable feelings of desire and guilt.
On the remaining days leading to Bruce's death, a newfound tenderness grows between father and son, as feelings of anger and bitterness soon turn to forgiveness and the past that has haunted the family is finally laid to rest.
At times devastating and at times dealing with subject matters hard to swallow, Rachel Ward's accomplished debut feature, cannot fail to get under your skin.
Notes to editors:
With a career spanning over 20 years,
Golden Globe nominated
actress Rachel Ward is best known for starring in numerous international films and television series including,
Against All Odds, Dead Men Don't Wear Plaid, The Thorn Birds
and most recently the ABC series
Rain Shadow
. Beautiful Kate is Rachel Ward's feature film directorial debut. She has previously directed three award-winning short films:
Blindman's Bluff, The Big House
and
Martha's New Coat.
Certificate: 15 Running Time: Catalogue number: RRP: Images available from:
www.vervepics.com/beautifulkate