30 Days of Night hits DVD and Blu-ray in October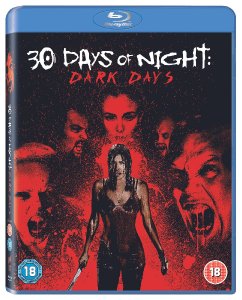 The Pulse-Pounding Sequel to the Box-Office Horror Hit
30 Days of Night: Dark Days
Arrives on Blu-ray and DVD on October 11
Loaded with Special Features Including Filmmaker Commentary And a Behind-the-Scenes Featurette
­­­­­­
London
, UK
. 15/8/10
-
The bloodthirsty vampires are back on October 11
when
30 Days of Night: Dark Days
-- the action-packed sequel to the globally successful franchise -- arrives on Blu-ray and DVD, courtesy of Sony Pictures Home Entertainment.
The cast features Kiele Sanchez (TV's "Lost",
A Perfect Getaway),
Harold Perrineau (
Felon,
TV's "Lost"), Mia Kirshner (
The Black Dahlia, Not Another Teen Movie)
, Diora Baird (
My Best Friend's Girl, Wedding Crashers)
and Rhys Coiro (TV's "24", TV's "Entourage"). From production company Ghost House Pictures,
30 Days of Night: Dark Days
was co-written by Steve Niles, the creator of the original graphic novels, along with director Ben Ketai.
Both the Blu-ray and DVD contain special features, including filmmaker commentary and
The Gritty Realism of Dark Days,
a new featurette that provides an all access behind-the-scenes exploration of the production design, make-up effects and cinematography used to create the gory war on the vampires. The Blu-ray is also enhanced with an exclusive Blu-ray interactive featurette,
Graphic Inspirations: From Comic to Film,
which compares and contrasts the visuals of the graphic novel with the imagery from the film, with discussion by director Ben Ketai
.
30 Days of Night: Dark Days
will be available on Blu-ray for RRP
£22.99 and on DVD for RRP £15.99.
SYNOPSIS
It's been almost a year since the Alaskan town of Barrow's population was decimated by vampires during its annual month-long sunset. Riddled with grief over the death of her husband, bound by nightmares and void of all emotions beyond hate and sorrow, Stella (Sanchez) has spent the past months traveling the world, trying to convince others that vampires exist. Met with scepticism and laughter, Stella is ready to throw in the towel when a group of lost souls (Coiro, Baird and Perrineau) offers an incredible opportunity: the chance to exact revenge upon Lilith (Kirshner), the vampire queen responsible for the assault on Stella's sleepy Alaskan town.
With nothing remaining to live for, and nothing left to fear, Stella joins their mission and ventures into the uncharted underbelly of Los Angeles where she pushes herself to the most extreme limits to stop the evil from striking again.
DVD Special Features include:
Filmmaker Commentary
Featurette:

The Gritty Realism of Dark Days
Blu-ray Special Features include:
BD exclusive :

Graphic Inspirations: From Comic to Film

PS3 Wallpaper Theme
Filmmaker Commentary
The Gritty Realism of Dark Days
30 Days of Night: Dark Days
has a run time of approximately 92 minutes (Blu-ray) and 89 minutes (DVD). The movie is rated 18.
Visit Sony Pictures Home Entertainment on the Web at
www.sonypictures.com
PRODUCT INFORMATION
TITLE
30 Days of Night: Dark Days
Release Date
11 October, 2010
Format
Retail Blu-ray
Rental Blu-ray
Retail DVD
Rental DVD
RRP
Blu-ray: £22.99
DVD: £15.99
Certificate
18
Genre
Horror
Running Time
Blu-ray: 92 mins(approx)
DVD: 89 mins (approx)