Manga classic Nausicaä of the Valley of the Wind arrives on Blu-ray in October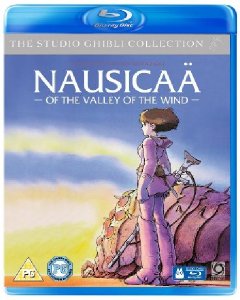 Nausica
ä of the Valley of the Wind
OUT ON BLU-RAY FROM 18th OCTOBER 2010
From Academy Award- Winning Director
Hayao Miyazaki
and
Studio Ghibli
comes the marvellous manga masterpiece
Nausica
ä of the Valley of the Wind
available on Blu-ray Disc for the very first time from
18
October
courtesy of
Optimum Home Entertainment.
Nausica
ä
, first released in 1984, is set in the post-apocalyptic future where the human's live next to a Toxic Jungle of crystalline trees and giant fungi whose airborne spores can kill people in minutes - that is if the giant insects don't get them first. One of the human kingdoms that remains idyllic, the peaceful Valley of the Wind, harbours a gentle Princess named
Nausicaä
who lives with her father the king, but their peace is about to be shattered as they are swallowed up in the machinations of their war-waging neighbours.
Nausica
ä
is a fine example of everything that has made Studio Ghibli world-renowned and this brand new high definition release is just the edition fans have been waiting for. With Miyazaki's trademark fluid animation looking better than ever on Blu-ray, and with the release also coming packed with crucial extra features, this really is both the version fans have been waiting for and the perfect introduction for Ghibli converts everywhere.
Extras:
Tech specs
Format: TBC
Cert: TBC
Running Time: TBC
Aspect Ratio: TBC
Colour: Colour
Audio: TBC
Language: English
Cat no: TBC
RRP: TBC
Extras: TBC