The Cat Returns - Double Play: The Studio Ghibli Collection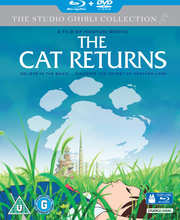 Believe in magic... Discover the secret of another land.
Certificate: U
Running Time: 75 Mins
Retail Price: £24.99
Release Date: 19/05/2014
Content Type: Movie
Synopsis:
From the makers of the Oscar winning Spirited Away comes a fantasy adventure tale perfect for young audiences and cat lovers alike, The Cat Returns now available for the first time on Blu-ray in stunning high-definition.

The Cat Returns brings back Muta, the cranky fat cat, and Baron von Gikkingen, the elegant statue, from the feature Whisper of the Heart. On her way home from school, Haru, a confused 17-year-old, prevents an elegant gray cat from being hit by a truck. She's inadvertently saved the life of Lune, Prince of the Cat Kingdom, and his royal father decides to thank her.

He fills her locker with gift-wrapped mice and decides she should come to his kingdom and marry Lune. Haru seeks help from the Cat Bureau, and eventually returns to relatively normal life, with the assistance of Muta and the Baron.
Special Features:
The Making of The Cat Returns
Behind the Microphone
Complete Storyboards
Original Japanese Theatrical Trailer & TV Spots
Studio Ghibli Trailer Reel

Related Websites:
http://www.studiocanal.co.uk/AtHome
http://www.play.com/DVD/Blu-ray/4-/61378536/-/Product.html

Video Tracks:
1.85:1 widescreen 1080p

Audio Tracks:
DTS-HD MA 5.1 Surround English
DTS-HD MA 5.1 Surround Japanese

Subtitle Tracks:
English

Directed By:
Hiroyuki Morita

Written By:
Reiko Yoshida
Aoi Hiiragi

Starring:
Chizuru Ikewaki
Yoshihiko Hakamada
Tetsu Watanabe
Aki Maeda
Yousuke Saitou
Tetsurou Tanba
Kenta Satoi
Rene Auberjonois
Anne Hathaway
Cary Elwes
Tim Curry
Kristen Bell
Judy Greer
Peter Boyle
Elliot Gould

Music From:
Yuuji Nomi

Editor:
Megumi Uchida

Producer:
Nozomu Takahashi
Toshio Suzuki

Executive Producer:
Hayao Miyazaki
Hideyuki Takai
Hironori Aihara
Koji Hoshino
Seiichiro Ujiie
Takeyoshi Matsushita
Toshio Miyagawa

Distributor:
Studiocanal