Whisper Of The Heart - Double Play: The Studio Ghibli Collection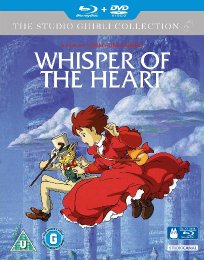 Studio Ghibli in high definition!
Certificate: U
Running Time: 111 mins
Retail Price: £24.99
Release Date: 2012
Content Type: Movie
Synopsis:
From the creators of the Academy Award-winning SPIRITED AWAY comes a tale scripted by the legendary animator Hayao Miyazaki. Directed by his protégé Yoshifumi Kondô, this film is a simple tale about a young girl who falls in love and learns to believe in herself.

Her name is Suzuku Tsukishima and she is nearing the end of her final year of junior high. An avid bookworm, she devours books while quietly dreaming about becoming a writer.

One day, she meets Seiji, a lad who has the ability to both irritate and charm her, often at the same time. He also harbors an unusual ambition: to build violins in Cremona, Italy. Around the same time, she meets a kindly old man who owns an antique shop, who she later learns is Seiji's grandfather. One item in the store particularly catches her eye - a strange statue of a cat with glittering eyes. Inspired by Seiji's utter determination to realize his own dream, she writes a story about the feline-shaped sculpture coming to life.
Special Features:
'Double Play Edition' includes the movie on 2 formats: Blu-ray & DVD!
Picture in Picture storyboards
Background artwork from The Baron's Story
TV Spots
Original Japanese Theatrical Trailers
Studio Ghibli Collection Trailers
4 Masterpieces of Naohisa Inoue: From Start to Finish
Behind the Microphone

Related Websites:
www.iblard.com

Video Tracks:
1.85:1 widescreen 1080p

Audio Tracks:
DTS-HD MA 5.1 Surround English
DTS-HD MA 5.1 Surround Japanese

Subtitle Tracks:
English

Directed By:
Yoshifumi Kondo

Written By:
Hayao Miyazaki
Aoi Hîragi

Starring:
Issei Takahashi
Youko Honna
Keiju Kobayashi
Takashi Tachibana
Yorie Yamashita
Shigeru Muroi
Shigeru Tsuyuguchi
Brittany Snow
David Gallagher
Courtney Thorne-Smith
Harold Gould
James Sikking
Cary Elwes
Jean Smart

Music From:
Yuji Nomi

Director of Photography:
Atsushi Okui

Editor:
Takeshi Seyama

Producer:
Hayao Miyazaki
Toshio Suzuki

Executive Producer:
Seiichiro Ujiie
Takashi Shouji
Yasuyoshi Tokuma

Distributor:
Studiocanal