Princess Mononoke and The Cat Returns hit Blu-ray this May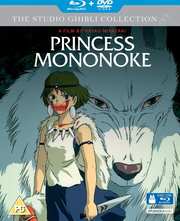 If you are a
Studio Ghibli
fan, and let's face it everyone either is or will eventually be, then
StudioCanal
have your back. Out on 19th May are no less than two double play Blu-ray and DVD releases from the studio.
The first of these is the legendary
Princess Mononoke
from writer and director Hayao Miyazaki. Translated by Neil Gaiman and featuring the voices of Claire Danes, Minnie Driver, Billy Crudup  and Gillian Anderson, this comes with extras that include feature length storyboards,
Princess Mononoke in the U.S.
featurette, trailers and TV spots.
The recommended retail price for this two format set should be around £24.99.
Synopsis and trailer follow...
This depicts the clash between the natural world and its old gods, and the rise of humans and the beginnings of modern civilisation. It shows three elements of the Japanese psyche warring for supremacy in an epic ecological fable of stirring mythic power.
On a journey to find the cure for a Tatarigami's curse, Ashitaka finds himself in the middle of a war between the forest gods and Tatara, a mining colony. In this quest he also meets San, the Mononoke Hime.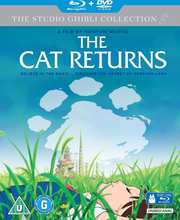 And joining the above we have a spin-off from
Whisper of The Heart
, feature length
The Cat Returns
, which has both the original Japanese version and also the English speaking audio with Anne Hathaway, Tim Curry, Kristen Bell and Judy Greer providing the voices.
Extras will include a making-of featurette, complete storyboards,
Behind the Microphone
featurette, trailers and TV spots. The RRP will also be around the £24.99 mark.
Synopsis and trailer follow...
When young girl Haro saves the life of a Cat King's son, Prince Lune, she finds herself visiting the magical Kingdom of Cats where the King would like to say thank you. But when Haro discovers that the King also wants her to marry Prince Lune, she must decide if she wants to stay in the Kingdom of Cats or return to her own world.