Astro Boy hits DVD and Blu-ray in May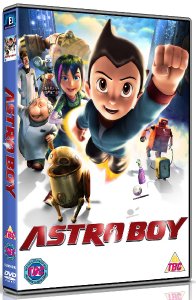 "A SUPER SOAR-AWAY HIT" - (FOUR STARS) - THE SUN.
One of the most seminal, iconic and coolest anime creations of all time,
Astro Boy
is now brought to vivid life in a brand new CGI animated feature film jam-packed with action, adventure, comedy and heart. Coming to
DVD
and as a
Blu-ray plus DVD Combi Pack
on 31st May 2010 after a thoroughly successful £3.6m run at UK cinemas and recommended as "exciting and charming… a treat for all kids, big and small" (Sun TV Magazine), the timing of Astro Boy's release makes it ideal half-term entertainment for children of all ages.
Having garnered a Four Star review in The Sunday Times and described as "a fast, fun superhero adventure" (Independent on Sunday), "action-packed from beginning to end" (Toxic Magazine) and "the coolest robot hero since WALL-E… Astro-nomically great fun" (Nitro Magazine), this futuristic "Pinocchio" tale is full of heartwarming charm and universal appeal guaranteed to keep children and adults enthralled.
Directed by
David Bowers
(Flushed Away) and co-written by Bowers and
Timothy Harris
(Space Jam; Kindergarten Cop; My Stepmother Is An Alien; Twins; Trading Places), Astro Boy boasts a star-studded vocal cast that includes the talents of
Freddie Highmore
(The Spiderwick Chronicles; Charlie And The Chocolate Factory),
Kristen Bell
(Couples Retreat; Heroes; Forgetting Sarah Marshall),
Nicolas Cage
(Kick-Ass; G-Force),
Samuel L. Jackson
(The Spirit; Iron Man),
Charlize Theron
(The Road; Hancock),
Donald Sutherland
(Dirty Sexy Money),
Bill Nighy
(G-Force, The Boat that Rocked, Hot Fuzz),
Matt Lucas
(Alice In Wonderland; Little Britain),
Eugene Levy
(Night at the Museum 2, Over The Hedge, American Pie) and
Nathan Lane
(The Producers).
Astro Boy (Highmore) is a young robot with incredible powers created by a brilliant scientist named Dr. Tenma (Cage) in the futuristic Metro City, a gleaming metropolis floating in the sky. Powered by positive 'blue' energy, he is endowed with super strength, X-ray vision, unbelievable speed and the ability to fly.


Embarking on a journey in search of acceptance, Astro Boy encounters many other colourful characters along the way, including a trio of incompetent rebel robots and a group of friendly orphans living on the neglected trash dump of the earth's surface. There, he learns the joys and emotions of being human and gains the strength to embrace his destiny. 

Discovering his new friends and family are in danger, Astro Boy marshals his awesome super powers and returns to Metro City in a valiant effort to save everything he cares about and to understand what it takes to be a hero.
A colourful and beautifully rendered, fast-paced, sci-fi adventure that barely pauses to take a breath, Astro Boy will delight audiences that enjoyed other futuristic CGI animated features such as 'WALL-E', 'The Incredibles' and 'Robots'.
Astro Boy
(cert. PG) will be released on
DVD
(£17.99) and as a
Blu-ray plus DVD Combi Pack
(£22.99) by
E1 Entertainment
on
31st May 2010
. Special Features include: two all new animated sequences ('Astro vs. The Junkyard Pirates' and The RFF in 'The New Recruit'); Inside The Recording Studio; Designing A Hero; Building Metro City; Getting The Astro Boy Look; Image Gallery; Creating A Global Icon; Dolby 5.1 audio; optional English subtitles for the hard of hearing.
Label: E1 Entertainment
Release date: 31st May 2010
Release type: DVD, Blu-ray
Certificate: PG
DVD Price: £17.99--> Pricing: DVD (£17.99) and a Blu-ray plus DVD Combi Pack (£22.99)
Genre: Animation
Director: David Bowers
Stars: Freddie Highmore, Kristen Bell, Nicolas Cage , Samuel L. Jackson , Charlize Theron , Donald Sutherland , Bill Nighy , Matt Lucas