Fast paced action thriller The Courier hits Blu-ray and DVD in June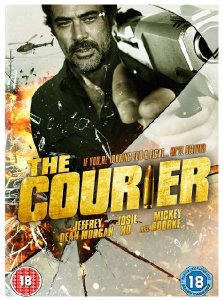 THE COURIER
Released on Blu-ray and DVD 11th June 2012
A daredevil courier is hired to deliver a mysterious case to a notorious hitman in the fast-paced action thriller,
THE COURIER
, starring Jeffrey Dean Morgan (
Watchmen, The Resident
), Josie Ho (
Contagion
) and Mickey Rourke (
The Expendables, Iron Man 2, The Wrestler
) out on DVD from Entertainment One on 11th June 2012.
From the writers of
Wanted, 2 Fast 2 Furious
and
3:10 to Yuma
and the Executive Producer of
Haywire
and
Limitless
,
THE COURIER
is directed by Hany Abu-Assad, who helmed the Oscar®-nominated foreign film
Paradise Now
, and boasts a great supporting cast including Til Schweiger (
Inglorious Basterds
), Lil Taylor (
The Haunting
) and Miguel Ferrer (
RoboCop
), and is a riveting action thriller.
A million bucks to deliver a briefcase, but what's the catch? It needs to be delivered to an elusive killer who is so feared that the entire Underworld trembles at the mention of his name.
In a business that asks no questions, specialist courier (Dean Morgan), is the best there is, and with the life of his family held to ransom there's no way he's missing this drop.
Hounded by hit men and hustlers, double-dealing feds and double-crossing accomplices, the Courier embarks on an impossible journey to deliver the mysterious case to the underworld's most dangerous hitman (Rourke).
-ends-
The Courier
Blu-ray and DVD Details
Certificate: 18
Audio (DVD): Dolby Digital 5.1/2.0
Aspect ratio: 16x9 (2.35:1)
Running time: 91 Minutes approx.
Price (DVD): £12.99
Special features: Making-Of The Courier