Season 6 of The Avengers comes to DVD in December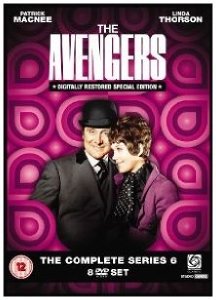 "The Avengers is the purest and most enjoyable form of escapism"
- The Guardian
"Sexier than Dr Who, wittier than The Prisoner, classier than The Saint"
- Empire
THE AVENGERS: THE COMPLETE SEASON 6
Out to own on DVD - 6th December 2010
This Christmas it's the 50th Anniversary of the show that defined a whole era of Television, '60s chic and '60s ...
far out
. Series 6 of the greatest spy-fi series comes to DVD on 6th December 2010, courtesy of Optimum Home Entertainment.
As the 1960s progressed, so too did
The Avengers
,the last series reflecting radically changing times with breath-taking, eye-popping visuals in glorious, state-of-the-art colour. In 1968 the show was at its peak - the longest running espionage series produced for English-language TV, reaching audiences in a record-breaking 120 countries.
Patrick Macnee
's John Steed is still as suave, urbane and debonair as ever he was - and quite unperturbed by the arrival of a new partner.
Linda Thorson
stepped into the series as Tara King and, as the most breath-taking, eye-popping visual of them all, she was a stunning and worthy successor to Cathy Gale and Emma Peel.
As ever,
The Avengers
continued to thrill with wildly imaginative and dependably bizarre new storylines. A cure for the common cold is mysteriously killing research doctors; a computer "murder" leads to chaos; a glass of milk proves hazardous to Steed's health; an ancient dagger holds the key to a secret treasure; a rash of Steed imposters cause havoc at a peace conference; enemy agents turn a dentist's office into a torture chamber; a military academy trains a ruthless breed of teenage space travellers ...
Now, with the release of
The Avengers
, you can watch these fantastic classics time and again in a DVD set featuring a full restoration* of all episodes and a host of groovy and enthralling extras. The perfect stocking filler for Christmas, this definitive box set is a feast of diabolical plots, exquisite charm and lavish '60s psychedelia - all blended to perfection with a quintessential take on the English flair for the weird, the strange and the cool.
The perfect companion to
The Avengers
is
The Avengers: A Celebration
, is a glorious visual tribute to all things Avengers, out now from Titan Books.
-Ends-
Release Information - The Avengers Series 6
Format: DVD
Cert: PG
Language: English
Release Information - The Avengers : The Complete 50th Anniversary Collection
Format: DVD
Cert: PG
Language: English
*
While every effort has been made to secure the best source material, imperfections commensurate with the age of materials may be evident, despite full digital restoration.