The Simpsons: The Thirteenth Season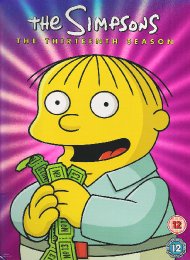 Certificate: 12
Running Time: 442
Retail Price: £39.99
Release Date: 20/09/2010
Content Type: TV Series
Synopsis:
Released by Twentieth Century Fox Home Entertainment the latest box set from the show features all 22 episodes from Season 13, in a classic collection of comedy capers. They include 'The Parent Rap,' where Bart's bad behaviour finally catches up with him, and 'Brawl in the Family' where the Simpsons learn a lesson in how to get along after being forced to see a social worker.

Season 13 also features guest appearances from Elton John, Reese Witherspoon, Pierce Brosnan, Paul Newman, Matthew Perry, Richard Gere and Carmen Electra.

The box set comes in special collectible 3-D packaging featuring the image of Ralph Wiggum, nose-picker and glue-eater, and son of Chief of Police Inspector Wiggum.
Special Features:
• Commentaries featuring Executives Producers, Writers, Directors, Cast and many more
• Deleted scenes
• Animation Showcase featurette
• Matt Groening intro featurette
• Ralphisms featurette
• The People Ball featurette
• The 13th Crewman featurette
• Blame it on the monkeys featurette
• The Games featurette
• BK Commercials
• The Sweet Life featurette
• Sketch Gallery featurette
• Deleted scenes Gallery with commentary

Video Tracks:
Full Frame 1.33:1

Audio Tracks:
Dolby Digital 5.1 English

Subtitle Tracks:
Danish
Finnish
Icelandic
Norwegian
Swedish
English

Directed By:
Jim Reardon
Mark Kirkland
Jen Kamerman
Lance Kramer
Steven Dean Moore
Matthew Nastuk
Nancy Kruse
Lauren MacMullan
Michael Polcino
Bob Anderson
Mike B. Anderson
Michael Marcantel
Chuck Sheetz
Pete Michels

Written By:
Matt Groening
James L. Brooks
Sam Simon
Joel H. Cohen
Don Payne
Mike Scully
John Swartzwelder
Ian Maxtone-Graham
Bill Freiberger
Carolyn Omine
Matt Selman
Tim Long
John Frink
Don Payne
John Swartzwelder
Jon Vitti
Andrew Kreisberg
Josh Lieb
Matt Warburton
Bob Bendetson
Deb Lacusta
Dana Gould

Starring:
Dan Castellaneta
Julie Kavner
Nancy Cartwright
Yeardley Smith
Hank Azaria
Harry Shearer
Marcia Wallace
Tress MacNeille
Pamela Hayden
Russi Taylor
Karl Wiedergott
Marcia Mitzman Gaven
Joe Mantegna
Russi Taylor
Maggie Roswell
Charity James
Brian Hamilton
Matthew Perry
Pierce Brosnan
Jane Kaczmarek
Michael Stipe
Peter Buck
Mike Mills
Julia Louis-Dreyfus
George Takei
Paul Newman
Richard Gere
Delroy Lindo
Ben Stiller
John Kassir
Dana Gould
Jon Lovitz
Reese Witherspoon
Wolfgang Puck
Dennis Weaver
Frank Welker
Bill Saluga
Olympia Dukakis
Russ Leatherman
Jon Fishman
Page McConnell
Trey Anastasio
Mike Gordon
Alec Baldwin
Kim Basinger
Lance Bass
Bono
J.C. Chasez
Adam Clayton
Joey Fatone
Stephen Hawking
Ron Howard
Elton John
Chris Kirkpatrick
Lucy Lawless
Larry Mullen Jr.
Joe Namath
Elizabeth Taylor
The Edge
Justin Timberlake
Stan Lee
James Lipton
Robert Pinsky
Carmen Electra
Frances Sternhagen

Executive Producer:
James L. Brooks
Matt Groening
George Meyer
Sam Simon
Mike Scully

Distributor:
Twentieth Century Fox Home Entertainment