War drama The Silent Army out on DVD in December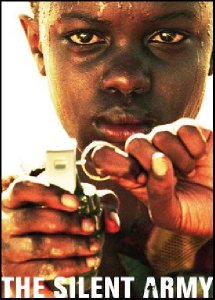 THE SILENT ARMY
A film by
Jean Van de Velde
Starring
Marco Borsato
Abby Mukiibi Nkaaga
Andrew Kintu
Thekla Reuten
On DVD from 6th December 2010
Synopsis:
Life as a restaurant owner in an eastern African country is not easy for the 40 year old, African born and bred Eduard Zuiderwijk after the sudden death of his wife. He now stands for the task of raising his 9-year-old son Thomas all by himself.
The young Thomas seeks and gains support from his friend Abu, son of Mafillu, one of the female black staff members in the restaurant.
One day Abu disappears suddenly together with at least ten other children, after a nightly and violent raid of his village by the rebel army.
Young Thomas cannot be consoled. He wants Abu back, and Eduard, who feels he is failing as a father, decides to try to find Abu.
While Eduard proceeds to an IDP camp in the middle of the conflict-infested area to gather information about the possible whereabouts of Abu and the other abducted children, Abu himself is undergoing harsh child soldier training in the rebel army of Michel Obeke, formerly Minister of Defence.
Eduard persists in his plight towards finding and saving his son's friend, and after a dangerous search through the jungle he manages to reach Michel Obeke's camp.