The Avengers - Series 2 And Surviving Episodes From Series 1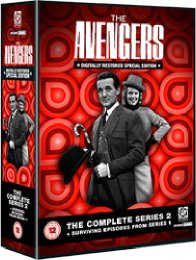 Certificate: 12
Running Time:
Retail Price: £79.99
Release Date: 05/10/09
Content Type: TV Series
Synopsis:
Extraordinary crimes against the people and the state must be avenged by agents extraordinary.

See the crime solving capers of the eponymous 60s secret agents for the first time restored and packed with extras.
Special Features:
The surviving Ian Hendry episodes
Exclusive audio commentary by Producer Leonard White on the surviving footage from the pilot episode Hot Snow
Police Surgeon - Easy Money (surviving episode starring Hendry that is seen as athe predecessor to The Avengers)
Filmed introduction to Police Surgeon by Producer Leonard White
Exclusive newly filmed interview with Honor Blackman
Exclusive audio commentary by writer Martin Woodhouse on Mr Teddy Bear
Exclusive audio commentary by Producer Leonard White on The Mauritius Penny
Exclusive audio commentary by writer Roger Marshall on Death of A Great Dane
Exclusive audio commentary by actress Julie Stevens on A Chorus of Frogs
Filmed introductions by actress Julie Stevens
Insert reprint of original Publicity brochure for the first Honor Blackman season
Insert reprints of Leonard White scrapbooks featuring telesnaps of lost episodes
PDF material including original scripts
Extensive stills galleries

Related Websites:
http://declassified.theavengers.tv/index.htm

Video Tracks:
Fullscreen 4:3

Audio Tracks:
Mono

Directed By:
Various

Written By:
Brian Clemens
Dennis Spooner
...and many more!

Starring:
Patrick Macnee, Honor Blackman, Ian Hendry, Ingrid Hafner, Caroline Blakiston, Norman Chappell, Patricia English, Richard Warner, David Cargill, Valerie Sarruf, Douglas Muir & Gerald Harper

Distributor:
Optimum Home Entertainment