Supernatural action thriller The Devil's Tomb comes to DVD in May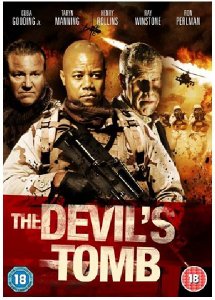 THE DEVIL'S TOMB
On DVD 2nd May 2011
Oscar-winner
Cuba Gooding Jnr.
(
American Gangster, Jerry Maguire, The Hit List
) stars alongside
Ray Winstone
(
Cold Mountain, Indiana Jones & The Kingdom of the Crystal Skull, Sexy Beast
) and
Ron Perlman
(
Hellboy, Season of the Witch, Conan The Barbarian
) in new supernatural action thriller
THE DEVIL'S TOMB
out to own on DVD from the 2nd May (RRP £12.99).
An elite group of soldiers are sent on a dangerous mission to free a scientist trapped in a secret underground laboratory. War veteran Mack (Gooding Jnr) and his team are contacted by a mysterious CIA operative and asked to retrieve Wesley (Perlman) who is working on an ancient archaeological discovery deep in the desert.
With the help of a strange priest (played by Henry Rollins) Mack and his team discover that there is more to the job than rescuing Wesley. The real secret that lies beneath the sands is one that has been protected for thousands of years, and one not of this earth…
THE DEVIL'S TOMB
is an explosive action thriller full of supernatural mystery.
THE DEVIL'S TOMB
DVD technical details:
Number of discs: 1
RRP: £12.99
Certificate: 18 (UK and Ireland)
Sound: Dolby Digital 5.1 Surround
Running time: 87 minutes approx
Aspect Ratio: Anamorphic 1.78:1