Connected: Ultimate Edition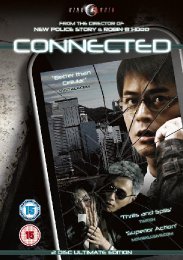 The Hong Kong remake of Hollywood's Cellular
Certificate: 15
Running Time: 106 mins
Retail Price: £15.99
Release Date: 2010
Content Type: Movie
Synopsis:
Louis Koo (Flashpoint, Robin-B-Hood) plays a single-father in a dead-end job, whose life changes dramatically when he receives a call out of the blue from a petrified woman called Grace (Barbie Hsu). She claims to be held in an unknown location against her will, and begs him to save her and her young daughter.

When the police force refuses to help, he realizes that he alone holds the power of life and death in his hands. However, when the stakes are raised, will he risk everything, including the life of his son, to save the lives of two people he has never met?

Produced in association with Warner Film China, Connected delivers nail-biting tension, exhilarating car chases and more than a few surprises in this relentless high-stakes adventure from the acclaimed director of New Police Story, Robin-B-Hood and Invisible Target.
Special Features:
Extended / Deleted Scenes
Trailer Gallery
Interview Gallery
Making Of
Behind The Scenes

Video Tracks:
2.35:1 anamorphic widescreen

Audio Tracks:
Dolby Digital 5.1 Surround Cantonese
Dolby Digital 5.1 Surround English
Dolby Digital 2.0 Stereo Cantonese

Subtitle Tracks:
English

Directed By:
Benny Chan

Written By:
Benny Chan
Alan Yuen
Bing Xu
Larry Cohen
Chris Morgan

Starring:
Louis Koo
Barbie Hsu
Nick Cheung
Ye Liu
Siu-Wong Fan
Siu-Fai Cheung
Beibi Gong
Carlos Chan

Music From:
Nicolas Errèra

Director of Photography:
Anthony Pun

Editor:
Chi Wai Yau

Costume Designer:
Pik Kwan Lee

Production Designer:
Chung Man Yee

Producer:
Benny Chan
Tao Jiang
Albert Lee
Kevin Yung

Executive Producer:
Nathan Chow
Sanping Han
Albert Yeung

Distributor:
Cine Asia