The Beast Stalker: Ultimate Collector's Edition (2 Discs)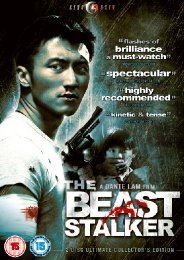 aka: Ching Yan
Certificate: 15
Running Time: 110 mins
Retail Price: £17.99
Release Date: 2010
Content Type: TV Series
Synopsis:
Pulse-pounding, intense and compelling, Beast Stalker is a razor-edge crime-thriller featuring explosive action and some of the most visually stunning car chase sequences of recent years.

In a world where justice is bought with blood and sacrifice is a way of life, Tong, a hard-edged detective (Nicholas Tse), puts his reputation on the line to hunt down the underworld's most dangerous kingpin. However, on the same fateful day that he puts his target behind bars, his life is shattered by tragedy and the shedding of innocent blood.

Devastated by painful memories, he languishes until his prior nemesis orchestrates the kidnapping of a judge's daughter to manipulate evidence that might convict him. Now, in a deadly race against time, Tong must come face-to-face with a relentless contract-killer, and find the strength to fight for one last chance at redemption...
Special Features:
Interviews with Nicholas Tse, Jingchu Zhang, Nick Cheung and Dante Lam
Making Of
Behind the Scenes featurettes (x4)
Trailer Gallery

Video Tracks:
1.85:1 anamorphic widescreen

Audio Tracks:
Dolby Digital 5.1 Surround English
Dolby Digital 5.1 Surround Cantonese
Dolby Digital 2.0 Stereo Cantonese

Subtitle Tracks:
English

Directed By:
Dante Lam

Written By:
Dante Lam
Wai Lun Ng

Starring:
Nicholas Tse
Jingchu Zhang
Nick Cheung
Kai Chi Liu
Kwok-Wai Cheung
Tung Cho 'Joe' Cheung
Suet-yin Wong
Sum-yin Wong
Philip Keung

Director of Photography:
Man Po Cheung
Chung-to Tse

Editor:
Ki-hop Chan

Producer:
Hong Tat Cheung
Dante Lam
Albert Lee
Candy Leung

Executive Producer:
Dai Song
Albert Yeung

Distributor:
Cine Asia