Shinjuku Incident, The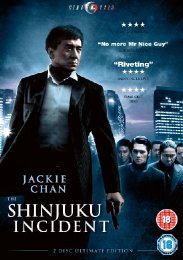 2-disc Ultimate Edition
Certificate: 18
Running Time: 114 mins
Retail Price: £17.99
Release Date: 2010
Content Type: Movie
Synopsis:
Provocative, compelling and underscored with hard-hitting action, this pulse-pounding thriller explodes with tension, and delivers a career-defining performance from international action-superstar, Jackie Chan.

Hundreds of Chinese refugees wash up on Japan's Wakasa Bay. Each has a dream of a better life, but most will encounter only prejudice and oppression. One, a law-abiding farm-worker known as Steelhead (Jackie Chan), has come to find the woman he has loved since childhood (Xu Jinglei), but his quest ends in bitter rejection, when he discovers she has married Yakuza underboss, Eguchi (Masaya Kato).

Heartbroken, his life descends into darkness, and petty crime quickly escalates to murder. With blood on his hands, he will risk everything to secure a future for his people, as they face an increasingly brutal onslaught from a criminal empire protected by a secret code. However, ancient traditions will not be broken, and his defiance will lead to all-out war, as both factions fight for control of the infamous Shinjuku district in the heart of Japan's greatest city.

Ultimately pursued by forces on both sides of the law, he must fight for redemption and the survival of those he loves in the darkest night he has ever known...
Special Features:
Trailer Gallery
Interview Gallery featuring Jackie Chan, Daniel Wu, Xu Jinglei, Masaya Kato, Naoto Takenata, Chin Kar Lok, Pater Kam Pau-Tat
Making Of
Behind the Scenes featurettes (x8)

Video Tracks:
2.35:1 anamorphic widescreen

Audio Tracks:
Dolby Digital 5.1 Surround Mandarin & Japanese
Dolby Digital 5.1 Surround English

Subtitle Tracks:
English

Directed By:
Tung-Shing Yee

Written By:
Tung-Shing Yee
Tin Nam Chun

Starring:
Jackie Chan
Naoto Takenaka
Daniel Wu
Jinglei Xu
Masaya Kato
Toru Minegishi
Jack Kao
Kenya Sawada
Hiroyuki Nagato
Yasuaki Kurata
Bingbing Fan

Music From:
Peter Kam

Director of Photography:
Nobuyasu Kita

Editor:
Ka-Fai Cheung
Chi-Leung Kwong
Man To Tang

Costume Designer:
Castillo Angelo Bernardo
Araki Satoe

Production Designer:
Oliver Wong

Producer:
Willie Chan
Solon So

Executive Producer:
Jackie Chan
Albert Yeung

Distributor:
Cine Asia