Jackie Chan's 100th is Coming To The UK courtesy of Cine Asia!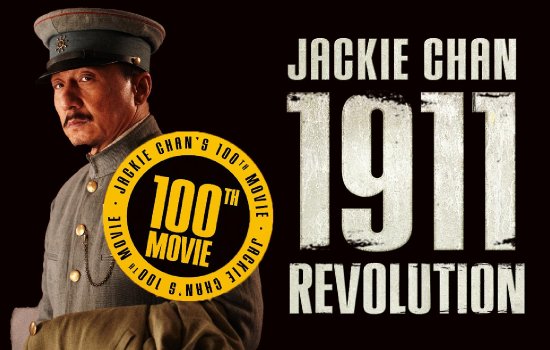 CELEBRATE THE LANDMARK 100TH MOVIE OF JACKIE CHAN'S OUTSTANDING CAREER IN FILM
Jackie Chan's latest historical epic 1911: Revolution will be his 100th film, making it a milestone in a sensational career. Chan has been entertaining and amazing audiences across the globe for decades, from thrilling action scenes to death defying stunts he has been at the forefront of live action and fight choreography. With his unique blend of comedy mixed with heart stopping stunts he has never failed to deliver mind-blowing performances and films that will live on forever. That's why his fans always come back for more…
Because there is no one quite like Jackie Chan!
RE-LIVE THE VIOLENT AND HEARTBREAKING EVENTS OF THE XINHAI REVOLUTION: A BLOODY UPRISING THAT BROUGHT THE DESPOTIC QING DYNASTY CRASHING TO ITS KNEES, ENDING NEARLY 3,000 YEARS OF FEUDAL OPPRESSION.
Action legend, Jackie Chan, commands the screen as Huang Xing: the fearless resistance leader and military genius, who opposed a 20,000-strong Imperial Army during the 1908 Guang Xi Uprising with only 200 men! Now, as military commander to legendary revolutionary leader, Sun Yat-sen, he will lead an impoverished and vastly outnumbered rebel army against the Emperor's elite Royal Forces in a battle that will change the course of history!
Experience iconic filmmaking on an epic scale with this "physically imposing vision" (Variety) from The King of Action Cinema.
1911: REVOLUTION ARRIVES ON BLU-RAY (£24.99) & DVD (£17.99) ON 19th MARCH 2012, COURTESY OF CINE-ASIA
Watch the trailer
NATIONWIDE JACKIE CHAN PROMOTION
In celebration of Jackie Chan's 100th movie, Cine Asia will be marking this milestone by offering all fans a chance to add to their collections by way of a nationwide promotion of of some of Chan's most memorable films on DVD.
Join us in celebrating the life of a true action legend!
Titles included in the promotion: Dragon Lord, Dragons Forever, Heart of the Dragon, New Police Story, Police Story, Police Story 2, Little Big Soldier, Robin B Hood, The Shinjuku Incident, Shaolin, The Myth, New Fist of Fury, The Protector, Twinkle Twinkle Lucky Stars, Wheels on Meals, The Young Master, Project A, Project A 2, Hand of Death, and City Hunter