Ron Perlman stars in The Second Front out this August on DVD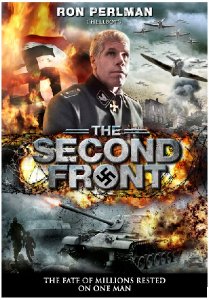 THE SECOND FRONT
THE DESTINY OF WWII HANGS IN THE BALANCE…
DVD Release date: 2nd August 2010
Running time: 97 minutes
DVD RRP: £15.99
Cert:
15
Starring Hellboy's
Ron Perlman
, this explosive and action-packed story of heroism and courage under fire follows American and Russian troops as they join forces in a desperate mission that could change the course of World War II.
The key to victory lies in the genius mind of one man - Nicky Raus (Academy Award nominated Todd Field), a Jewish scientist who is on the brink of developing a weapon of tremendous destructive power. When Nazi agents succeed in a daring operation to kidnap him, US Special Forces' Frank Hossom (Craig Sheffer, 'One Tree Hill') is dispatched to bring the scientist back - dead or alive.
With the odds stacked against him and time running out, Frank teams up with Russian agents and mounts a desperate rescue mission to save the scientist from the clutches of the Nazis and their malevolent leader, General von Binding (Ron Perlman, 'Hellboy').
While the war rages on, the fight for ultimate victory starts here…
Please note:
There are no extra features on this disc