John Pilger's The War You Don't See is out to buy this December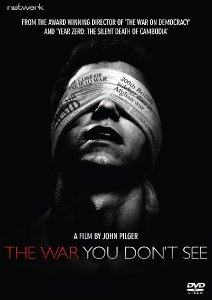 JOHN PILGER'S "
THE WAR YOU DON'T SEE
" (E)
Following on from his award-winning documentary

The War on Democracy

, Network DVD is delighted to announce the release of John Pilger's new film, a powerful and timely investigation into the media's role in war. The Dartmouth Film Production, THE WAR YOU DON'T SEE is available to buy on 13th December 2010, RRP £14.99.
Recipient of nineteen awards including the UN Media Peace Prize, John Pilger has always journeyed where many journalists fear to tread. In THE WAR YOU DON'T SEEhetraces the history of 'embedded' and independent reporting in the media from the carnage of World War I to the destruction of Hiroshima, and from the invasion of Vietnam to the current war in Afghanistan. As weapons and propaganda are becoming more sophisticated, the very nature of war has developed into an "electronic battlefield", but who is the real enemy today? Find out in this powerful film from acclaimed documentary maker John Pilger.
***ENDS***
NOTES TO EDITOR
THE WAR YOU DON'T SEE (E) is a Network DVD release. It will be released on 13th December 2010 and simultaneously screened at cinemas nationwide. THE WAR YOU DON'T SEE will also be broadcast on ITV1 on 14th December 2010.
RRP:
£14.99
Discs:
1
Running Time:
120 minutes (approximately)
Screen Ratio:
4:3/colour
Cat. No.: 7953509