Queen Of The street Beverley Callard's new fitness DVD out this week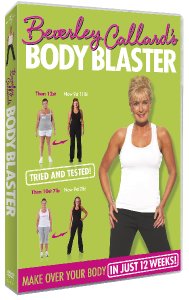 A DECADE AFTER SELLING NEARLY A MILLION FITNESS DVDS…QUEEN OF THE STREET BEVERLEY CALLARD IS BACK WITH HER BEST FITNESS DVD YET!
CORONATION STREET STAR AND DAILY MIRROR COLUMNIST BEVERLEY CALLARD RETURNS TO HER FITNESS ROOTS BY LAUNCHING HER BRILLIANT 'BODY BLASTER' WORKOUT, GUARANTEEING RESULTS FOR REAL WOMEN!
BEV SAYS

"EVEN I KNOW WHAT IT'S LIKE TO SEE THE POUNDS CREEP BACK WHEN YOU STOP EXERCISING. HAVING BEEN ILL OVER THE LAST 18 MONTHS I STOPPED WORKING OUT AND WAS EVEN ON THE VERGE OF CANCELLING MY WEDDING BECAUSE I'D PUT ON 2 STONE! I REALLY NEEDED TO GET MY OLD BODY BACK BUT I DIDN'T WANT TO DO IT ALONE. SO I RETURNED TO TEACHING MY FITNESS CLASSES AND RECRUITED 8 WOMEN TO JOIN ME IN MY NEW BOOT CAMP CLASS WHO ALL WANTED TO JOIN ME ON MY JOURNEY TO LOSE WEIGHT. I GOT BACK TO SIZE 10 FOR MY WEDDING AND MY RECRUITS HAVE LOST NEARLY 10 STONE BETWEEN THEM!
WE'RE PROOF MY NEW ROUTINE WORKS, SO FOLLOW MY 'BODY BLASTER' WORKOUT AND YOU CAN GET BACK IN SHAPE IN DOUBLE QUICK TIME."
Best known for her role as Coronation Street Landlady, Liz McDonald, Bev has also had a parallel career as a fitness instructor during the 80's and 90's. Now Bev is back to a size 8, and in better shape than ever thanks to her latest DVD from Universal -
Beverley Callard's Body Blaster
. This DVD is for real people whatever age, body shape or size.
Bev takes you through 6 exhilarating workout sections, including a warm up and cool down, to suit all ages and abilities as follows:
·
Ready For Action Warm Up -
Designed to get your body moving and ready for the workout ahead.
·
Operation Fat Attack -
Blood pumping, high energy fat burner. This really will help you shift those pounds.
·
Hardcore Bootcamp -
Designed to burn calories, this will get you sweating!
·
Total Body Drill -
Feel the burn - a high intensity workout, targeting the big three, legs bottom and thighs.
·
Full Body Blitz -
An all over work out designed to push you to your limits.
·
At Ease Cool Down -
Gentlywind down after all that hard work and stretch your muscles.
Workout to
Beverley Callard's Body Blaster
and you will shape up faster than you'd believe was possible. Use the latest DVD technology to cherry-pick a short workout when time is tight.
Bev says
"My latest DVD has 6 unique sections that I have devised to focus on different body parts, PLUS, top tips and real life stories from my girls and a special eating plan. I believe this is my best DVD ever."
Bonus features include:
·
Meet The Real Women -
be inspired by the incredible results that they have achieved with Bev's Body Blaster!
·
Eating Plan
- combine Beverley's special eating plan with her workout for even faster results!
Beverley Callard's Body Blaster
is on sale nationwide from 27 December 2010. (RRP £19.99 Universal). Her latest DVD from Universal Pictures UK. © 2010 Universal Studios. All Rights Reserved.
-Ends-
NOTES TO EDITORS
Beverley Callard
Beverley Callard was born in Morley, Leeds and is best known for playing Liz McDonald in Coronation Street. Other TV roles include starring in Emmerdale, Two Pints of Lager and a Packet of Crisps and Mile High. Bev took a break from
Coronation Street
in 1998 to concentrate on her other career as an aerobics instructor and to spend more time with her family. She has released books and exercise videos called Real Results, Rapid Results, Ultimate Results and Lasting Results. She also appeared as a fitness expert on GMTV and This Morning and has had a regular fitness column in the Daily Mirror. Bev has two children and married her fiancé John McEwan in October 2010.
Universal Pictures UK - www.nbcuni.com
Universal Pictures UK is a division of Universal Pictures International Entertainment, which is part of NBC Universal, one of the world's leading media and entertainment companies in the development, production, and marketing of entertainment, news, and information to a global audience. Formed in May 2004 through the combining of NBC and Vivendi Universal Entertainment, NBC Universal owns and operates a valuable portfolio of news and entertainment networks, a premier motion picture company, significant television production operations, a leading television stations group, and world-renowned theme parks. NBC Universal is 80% owned by General Electric and 20% owned by Vivendi.