This Is War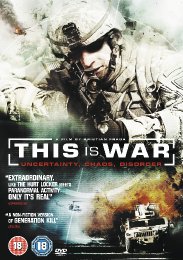 Life on the Battlefield - No reporters, no camera crews, no politics, no censors.
Certificate: 18
Running Time: 93
Retail Price: £12.99
Release Date: 04/10/2010
Content Type: Movie
Synopsis:
In July 2002, First Lieutenant Mike Scotti volunteered to extend his service with the American Marine Corps; six months later, he was propelled to the front line of one of the most notorious and complex military campaigns of our time; Operation Iraqi Freedom.

Marching through the deserts of a crumbling regime, Scotti records the soldiers' progress to Baghdad on his personal mini DV-camera. Driven by fear and adrenalin, confronted by Iraqi Paramilitaries and convoys of Republican Guards disguised as civilians, Scotti and his comrades learn that the only people you can trust are members of your own battalion.

On his return from Iraq, Scotti entrusted documentary filmmaker Kristian Fraga (Anytown, USA) with over 60 hours of footage, which Fraga edited down to this first-hand account of the war as it's fought on the ground.

In the boots of a Marine in the line of fire, the viewer is taken on a mission from the early days of the war against terror and dropped straight into the heat of the battle. Mike Scotti's personal footage gives us an account of the visceral reality of the Iraqi War that is unrivalled in its impact and honesty. Offering audiences an incomparable authenticity, THIS IS WAR explodes the barriers between viewer and subject and presents us with the real human face of war; UNCENSORED.
Special Features:
- Commentary with film critic Matt Zoller and Kristian Fraga
- Mike Scotti interviews
- Kristian Fraga interviews
- Creating the maps
- Script to Screen: Airlift to Kuwait
- Deleted and Alternative Scenes

Video Tracks:
Anamorphic Widescreen 1.78:1

Audio Tracks:
Dolby Digital 5.1 English

Directed By:
Kristian Fraga

Written By:
Kristian Fraga

Starring:
Mike Scotti

Soundtrack By:
Cliff Martinez

Editor:
Kristian Fraga

Producer:
Kristian Fraga
Marc Perez

Executive Producer:
Benjamin Charbit
John L. Sikes

Distributor:
G2 Films