The Black Arrows documentary out now on DVD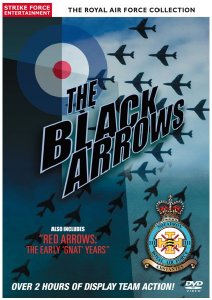 Strike Force Entertainment/ Cherry Red Records are proud to announce the release of
The Black Arrows
Now available to own on DVD
The Black Arrows is a name that conjures up the peacetime drama and excitement of the Royal Air Force. This entertaining DVD brings the history of the Black Arrows right to the comfort of the viewers home where they can watch the record holding aerobatics team as they developed from a small group of five Hunters to the record breaking fleet of twenty two, performing spectacular loop formations.
DVD CONTENTS
THE BLACK ARROWS
Prior to 1955, the RAF did not have an official aerobatics team at all - air shows were left to local commanders to organize whatever displays they could. In 1955, 54 Squadron flew a formation of four brand new Hawker Hunter aircraft. In 1956 the team dressed in black flying suits called themselves The Black Knights. Later that year 111 or Treble One Squadron provided the first official RAF display team and the aircraft were all painted black. After a performance in France they were applauded as Les Fleches Noir, the name stuck and was translated as The Black Arrows.
Initially, the Black Arrows were five Hunters and by 1957 the team increased to a nine ship formation, looping and rolling in glorious unison. Each season new manoeuvres and stunning formations, including the Bomb Burst, were added to excite the crowds even more. At the 1958 Farnborough Air Show, the Black Arrows stunned the world with a record breaking loop and barrel roll, using no less than twenty-two Hunters which was, and is, the greatest number of aircraft ever looped in formation.
Strike Force Entertainment bring you the most comprehensive film history of the award winning Black Arrows from the team s inception to its finale in 1961, when the squadron was re-equipped with the English Electric Lightning. Later in the decade the Red Arrows were born and continued where The Black Arrows left off.
BONUS FEATURES
Bonus Feature - Red Arrows: The Early 'Gnat' Years - A companion documentary detailing the early years of the successors to the Black Arrows - the Red Arrows - during the era in which they flew Folland Gnat aircrafts. Also covers off other RAF teams of this transitional era: the Yellowjacks, the Firebirds, the Tiger Squadron and the Red Pelicans.
DVD DETAILS
Cat no: SNA6680
Barcode: 5013929668058
Running time: 133mins
Certificate: E
Region: 0
Picture: B&W/Colour
Ratio: 1.33:1
Sound: Stereo English
Price: £14.99
The Black Arrows
is distributed by Strike Force Entertainment / Cherry Red Records and is now available to buy on DVD.