Arnold L. Miller's previously banned West End Jungle hits DVD this April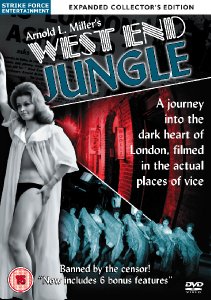 Arnold L. Miller's West End Jungle
30th April 2012
PRICE: £14.99
Nearly half a century after it was banned…West End Jungle is set to make a return to our screens as part of a Special Collector's Edition, courtesy of Strike Force Entertainment.
Featuring two additional archive 'shockumentaries' and a pop promo by the legendry Marc Almond, WEST END JUNGLE, which was originally banned in 1961, offers a comprehensive insight into the history and once referred to, 'seedy reality' of the sex industry of the early sixties in Soho.
Examining the consequences of the introduction of the Street Offences Act in 1959, which until then had seen as many as 10,000 prostitutes line the streets and alleys of London's Soho district with nothing more than a deterrent of a £2 fine, WEST END JUNGLE explains just what happened after those streets were cleared and looks at the very many different guises as one of Britain's oldest professions continued to operate and thrive.
From the new breed of member's clubs, which sprung up everywhere, to strip joints, clip joints, call girls, models & hostesses, WEST END JUNGLE examines the world of prostitution and its many facets, from the techniques used to picking up customers to the recruitment of rural women often lured by the glamour and hopes of fame and fortune.
Directed by Arthur L. Miller and filmed in various private member's clubs, special features include the documentaries 'Skin Deep' (18 minutes), which was the first documentary to record the intricacies of intimate cosmetic surgery in full colour and 'Get Em Off' (26 minutes), which was directed by Miller's contemporary Harold Baim and takes a look behind the scenes of one of London's strip-tease clubs. Also featured is the Marc Almond pop promo 'Variety' which includes footage taken from WEST END JUNGLE.