William Boyd's Any Human Heart hits DVD and Blu-ray this December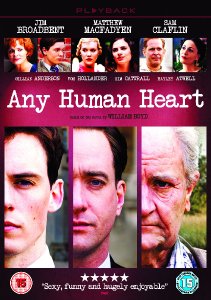 William Boyd's bestselling novel
Any Human Heart
is adapted as a stunning drama with an all-star cast
A joy: a lush, clever and playful romp
-
Radio Times
Sparkling dialogue, sumptuous period settings, beautiful women and lashings of decadent sex. Like Downton, it's TV for grown-ups
.' -
Evening Standard
On Blu-ray and DVD from 27th December 2010
Any Human Heart
, William Boyd's compelling and entertaining story of one man's emotional and unpredictable journey through every decade of the 20th century, comes to Blu-ray and DVD from
27th December 2010
courtesy of
Universal Playback
.
Jim Broadbent
,
Matthew Macfadyen
and
Sam Claflin
take on the three generations of Logan Gonzago Mountstuart and the "
emotional, dramatic and rackety journey that is his long and tumultuous life"
(William Boyd).
From the director of
The Last Days of Lehman Brothers
and
The Curse of Steptoe
, this unmissable and captivating four-part drama boasts an all-star cast and a screenplay by
William Boyd
from his own best-selling novel. Oscar-winner
Jim Broadbent
(
The Young Victoria, Longford
) is the older incarnation of Boyd's literary everyman, Mountstuart, playing the fictional writer through his final years: London in the 1970s and '80s, the shame of poverty, unlikely heroism and not-so-serene old age in '90s rural France.
Matthew Macfadyen
(
Little Dorrit, Frost-Nixon
) takes Logan through middle age, from the thrill and heartache of true love and the birth of his first child, via the horrors of war, to scandal in the New York art scene of the 1950s and '60s. Finally, Newcomer
Sam Claflin
(the forthcoming
Pirates of the Caribbean: On Stranger Tides
,
The
Pillars of The Earth
) embodies the idealism, vitality and naïvety of the young Logan, whose lust for life and women truly begins as a student at Oxford and then in Paris of the '20s.
From failed marriages, numerous flirtations and affairs, to true love, the women in Logan's life are many and varied.
Hayley Atwell
(
The Prisoner
,
The Duchess
) plays Freya, his mistress and the love of his life;
Natasha Little
(
The Boys Are Back, Mistresses
) isthird wife Alannah; and
Kim Cattrall
(
Sex and the City, My Boy Jack
) takes on the role of older Logan's glamorous lover, Gloria. Logan also has encounters with Ernest Hemingway, Ian Fleming (
Tobias Menzies
,
Rome, A Very Social Secretary
) and the Duke & Duchess of Windsor (
Tom Hollander
,
Gosford Park,
In The Loop,
and
Gillian Anderson
,
The Last King of Scotland, The X-Files
).
Any Human Heart
is the story of a novelist's life lived to the full as it ricochets around a myriad of historical events. Boyd's epic tale charts an entire existence and in doing so reveals that all our lives are ultimately random, defined by luck and seemingly inconsequential choices. As Logan himself says; "I am all of these different people. All these different people are me."
The DVD and Blu-ray features a wealth of extra material befitting of one of the best drama series of the year, including interviews with all three versions of Mountstuart and other key cast members such as Kim Cattrall and Gillian Anderson, a behind the scenes featurette and a fascinating interview with William Boyd as he discusses the journey from page to screen.
For more information visit
www.universal-playback.com
.
Release Information -
Any Human Heart
Release Date:
27 December 2010
Format:
DVD & Blu-ray
Cert:
TBC
Discs:
2 discs
Cat No:
8278562 (DVD)
8281090 (BRD)
RRP:
£24.99 (DVD)
£29.99 (BRD)
Special Features:
In Oxford with Sam Claflin
Matthew Macfadyen On Location In Spain
Interview with Jim Broadbent
Kim Cattrall on 'Gloria'
Gillian Anderson and Tom Hollander on playing the Duke and Duchess of Windsor
Hayley Atwell on 'Freya'
On the set of Any Human Heart
From Paper to Screen - William Boyd discusses Any Human Heart