Corrie's Debbie Rush's Bulge Buster Workout DVD arrives this month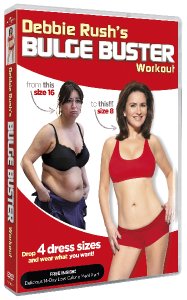 CORRIE'S DEBBIE RUSH NO LONGER WOBBLES ON THOSE FAMOUS COBBLES!
Coronation Street star Debbie Rush has dropped 4 dress sizes from a size 16 to a size 8 in four and a half months. Now you can achieve amazing results too by following Debbie's fitness routine and her brand new fitness DVD -
Debbie Rush's
Bulge Buster Workout.
Debbie, who plays Roy's Rolls worker Anna Windass said:
"After seeing some awful photos of my bulging and bloated figure I knew I'd really let myself go, I was so ashamed of my belly. I was in tears. It was so big I couldn't see my feet and being short in height I was turning into a little barrel! I knew I had to do something about it. Once I put my mind to changing the way I looked and found a routine I could do at home which I loved, it was surprisingly easy to get my figure back. Now I want to share my exercise secrets and show other real women just like me how to blitz away their body bulge! This workout can help you wear the clothes you really want, with results that last."
Debbie, 44, as firm viewers' favourite frumpy Anna Windass in the hit soap Coronation Street, is wowing the nation with her amazing new look. Only a few months ago she was dressed in baggy cardies and tracksuit pants, just like her soap character. Life imitated art and by July, 5 foot 1 inch Anna rolled in at over eleven stone and a size 16.
Debbie admits she let the pounds creep on over the past few years, leaving her horrified and depressed at how much weight she had gained. After seeing some disturbing paparazzi shots of her jelly belly this summer, the mum-of-three ditched the pounds by exercising for the very first time in her life and giving her diet a complete overhaul.
Debbie says
"I turned to athlete Andy Titterall (an ex-rugby international) who's an expert on sports science, to show me a routine I could do on my own at home. I decided to go down this route because you never see an untoned or overweight athlete. I've been doing my workout three times a week for over four months now, and the weight has really dropped off. I'm confident it will stay off too because I've been slimming down over a sensible, steady period.
"I've been using a simple no-nonsense mix of cardio and body weight exercises like 'the plank' and press ups that really work. I've also tackled my eating habits and ditched Corrie's gorgeous canteen cooking - no more Hot Pots for me! I've swapped chocolate, chips with curry sauce and desserts for healthier veggie crudités or olives, and I'm eating smaller portions. I've also swapped beer for vodka and slimline tonic when I go out."
Debbie has documented her dramatic transformation in
Debbie's Bulge Buster Workout DVD.
There are 7 sections to the workout: it is suitable for people of all ages and fitness levels who would like to follow a focused workout routine that can deliver long term weight loss.
Warm Up Circuit
Get your blood pumping and ready to work!
Cardio Circuit
A real fat shifter to get you great muscle tone and definition.
Legs Circuit
This is the section that will help you achieve that toned, athletic look.
Arms Circuit
Targeting those problem areas - time to blitz those bingo wings!
Bum & Tum Circuit
Strengthen your core to give a great shape to your bum & tummy area.
Full Body Circuit
Working you from head to toe to provide the ultimate body workout.
Cool Down Circuit
Relax, stretch and congratulate yourself on a great workout!
The DVD also includes a free booklet of delicious, easy-to-prepare low calorie meals to follow as a 14-day eating plan. When used in accompaniment with the workout DVD it can help women achieve a similar weight loss success story as Debbie's.
Use the latest DVD technology to cherry-pick a short workout section and customise the routines to suit you, for example when time is limited.
DVD Extras:
Debbie's Story
Join Debbie through the highs and lows of her incredible weight loss journey.
Advanced Techniques
When you're ready, push yourself that bit harder and aim for even better results!
Debbie's Bulge Buster Workout
is released on Monday December 27 2010, and released by Universal Pictures (UK) Ltd. RRP: £19.99. © 2010 Universal Studios. All Rights Reserved.
NOTES TO EDITORS
Debbie Rush
Debbie Rush currently plays Anna Windass in Coronation Street. Previous credits include Shameless and Hollyoaks in the City. Debbie is married with three children.
Universal Pictures UK - www.nbcuni.com
Universal Pictures UK is a division of Universal Pictures International Entertainment, which is part of NBC Universal, one of the world's leading media and entertainment companies in the development, production, and marketing of entertainment, news, and information to a global audience. Formed in May 2004 through the combining of NBC and Vivendi Universal Entertainment, NBC Universal owns and operates a valuable portfolio of news and entertainment networks, a premier motion picture company, significant television production operations, a leading television stations group, and world-renowned theme parks. NBC Universal is 80% owned by General Electric and 20% owned by Vivendi.