Musician documentary Searching for Sugar Man comes to DVD and Blu-ray this December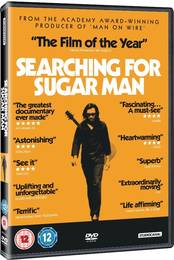 Like a nice music documentary? How about one that features an artist you may never have heard of, or if you did wondered whatever happened to him?
So here we have Malik Bendjelloul's revelatory and compelling
Searching for Sugar Man
, about the Mexican-American singer-songwriter Rodriguez, who was momentarily hailed in 1970 as the finest recording artist of his generation, and then disappeared into oblivion, only to rise again from the ashes in a completely different context, a continent away.
Released by
Studio Canal
on 27th December, with extras that include a making-of featurette and commentary track with Rodriguez and the director. The DVD comes with a 5.1 Dolby Digital soundtrack, whilst the Blu-ray features full 1080p HD and DTS Master Audio.
The recommended retail price will be £17.99 for the standard definition version, whilst the high def will set you back £22.99.
Synopsis and trailer follow...
In the late '60s, a musician was discovered in a Detroit bar by two celebrated producers who were struck by his soulful melodies and prophetic lyrics. They recorded an album that they believed was going to secure his reputation as one of the greatest recording artists of his generation.
In fact, the album bombed and the singer disappeared into obscurity amid rumors of a gruesome on-stage suicide. But a bootleg recording found its way into apartheid South Africa and, over the next two decades, it became a phenomenon. Two South African fans then set out to find out what really happened to their hero. Their investigation led them to a story more extraordinary than any of the existing myths about the artist known as Rodriguez.
On a related note, Rodriguez is just about to embark on a small tour of the UK next month, the tour dates are as follows:
Fri 16 Nov - The Roundhouse, London
Sat 17 Nov - The Royal Festival Hall
Sun 18 Nov - The Roundhouse
Thu 22 Nov - The Philharmonic Hall, Liverpool
Sat 24 Nov - The Sage Gateshead
Sun 25 Nov - The Usher Hall, Edinburgh
Tue 27 Nov - The Button Factory, Dublin
Wed 28 Nov - The Empire Music Hall, Belfast
Fri 30 Nov - The Dome, Brighton
Sat 1 Dec - The Colston Hall, Bristol
Sun 2 Dec - The Academy, Manchester
More details on the
artist's website
.