Queen and Bejart: Ballet for Life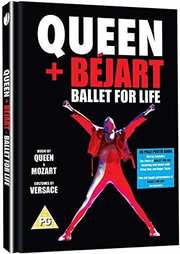 Certificate: PG
Running Time:
Retail Price:
Release Date: 06/09/2019
Content Type: TV Series
Synopsis:
Ballet for Life was a unique collaboration between three huge cultural brands: Queen, Versace and the visionary choreographer Maurice Béjart. At its heart is the loss of two legendary performers, Freddie Mercury and dancer Jorge Donn, both of whom died of AIDS in the early 1990's.

Queen + Bejart: Ballet for Life by Lynne Wake and Simon Lupton tells the story of the creation and subsequent success of the ballet featuring the great and the good of both rock and ballet, including: Brian May and Roger Taylor, Wayne Sleep and Arlene Philips and of course incredible archive footage of Freddie Mercury, Maurice Béjart, Queen and Gianni Versace. This film marks the ultimate fusion of Queen's sweeping emotional melodies and the timeless ethereal grace and movement of ballet.It is the first and only time a full length ballet has been paired to rock music albeit peppered with some equally well known pieces from Mozart.
Special Features:
Ballet for Life Full Performance (1997)

Making of (1997)

Limited edition format. 36 page hard back book with full colour photos and quotes from the band illustrate this collector's edition.

Related Websites:
https://www.eagle-rock.com/