Music documentary Soul Power funks its way onto DVD and Blu-ray in September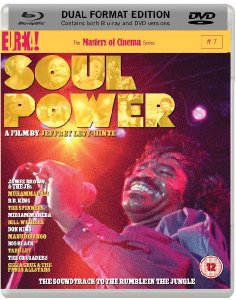 Music documentaries, we are quite partial to them. Throw in one with legends and we get even more excited over it.
Eureka Entertainment Ltd
are releasing
Soul Power
on 10th September, as part of their
Masters of Cinema
series, across DVD and Blu-ray formats.
Containing a new high-definition transfer in its original 1.78:1 aspect ratio, the running time will be 93 minutes and the retail price will be £15.99 for the DVD, and £19.99 for the dual format Blu-ray edition.
Extras will include an exclusive video interview with the director Jeffrey Levy-Hinte, 30 minutes of deleted behind-the-scenes footage, extra concert performances by James Brown, Sister Sledge, the Pointer Sisters, and others.
Also included will be a 36-page full-colour booklet featuring archival publicity stills, a director's statement, and a compilation of reminiscences by the organisers and performers.
Synopsis and trailer follow...
Zaire '74. The world braced itself for The Rumble in the Jungle, but when delays stopped the boxers from starting up, the fans insisted on getting down.
In 1974, the most celebrated American R&B acts of the time came together with the most renowned musical groups in Southern Africa for a 12-hour, three-night long concert held in Kinshasa, Zaire. The pipe dream of musician Hugh Masekela and producer Stewart Levine, this music festival became a reality when they convinced boxing promoter Don King to combine the event with The Rumble in the Jungle, the epic fight between Muhammad Ali and George Foreman.
Soul Power is a verité documentary, entirely composed of footage shot in 1974 at the legendary music festival. It shows the experiences and performances of such musical luminaries as James Brown, BB King, Bill Withers, Celia Cruz, Miriam Makeba, among a host of others. At the peak of their talents and the height of their careers, these artists were inspired by this return to their African roots, as well as the enthusiasm of the Zairian audience, to give the performances of their lives. The concert has achieved mythological significance as the definitive Africa(n)-American musical event of the 20th Century.
Soul Power has been crafted from the extensive footage which remained after the making of When We Were Kings, which famously documented the epic title fight, but only briefly touched upon the Zaire '74 music festival. This footage has remained vaulted for the past 35 years, unused, unseen, until now. Lensed primarily by celebrated cinematographers Albert Maysles, Paul Goldsmith, Kevin Keating, and Roderick Young, Soul Power finally provides today's audience the opportunity to experience this historic musical event in all of its magnificent.