It Was Fifty Years Ago Today! The Beatles: Sgt Pepper and Beyond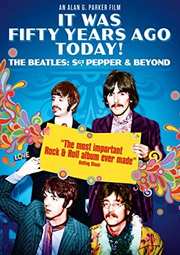 Certificate: E
Running Time: 113 Mins
Retail Price: £17.99
Release Date: 05/06/2017
Content Type: TV Series
Synopsis:
On 1st June, 1967 The Beatles released their ground-breaking studio album...
Sgt. Pepper's Lonely Hearts Club Band.

Described by Rolling Stone magazine as "The most important rock & roll album ever made", it marked a pivotal moment in the 60's and went on to become one of the biggest selling records of all time.

Combining first-hand accounts of the events with rare and unseen footage forensically unearthed from mainstream archives and private collectors, this new music documentary by acclaimed director Alan G. Parker, picks up on the band as they end their grueling tour schedule in August 1966 (coincidentally following on from Ron Howard's Eight Days A Week) to return to the studio to record this landmark album.

This insightful and revealing film journeys through the end of Beatles touring various solo projects to the release of 'Strawberry Fields Forever / Penny Lane', touching on Flower Power and The Summer Of Love, LSD, Meditation, the roots of 'rock' branching out of pop, the death of Brian Epstein and the rise of Apple.

Directed by Alan G. Parker, an Emmy nominated music director whose credits include: Hello Quo, Monty Python: Almost The Truth / Who Killed Nancy? / Rebel Truce: The History Of The Clash). The film features an original score by Andre Barreau (Sliding Doors / Dangerous Parking) and Evan Jolly (The Crown / Hacksaw Ridge) and features interviews including: Simon Napier-Bell (Music Manager), Hunter Davies (Official Biographer), Tony Bramwell (Brian Epstein's Right Hand Man,) Pete Best (The Beatles), Freda Kelly (Official Beatles Fan Club Secretary), Philip Norman (Lennon/McCartney Biographer). The Archival Research was carried out by Keith Badman (Freddie Mercury - The Great Pretender / The Who - Quadrophenia - Can You See The Real Me).
Special Features:
INCLUDES OVER 4.5 HOURS EXCLUSIVE BONUS MATERIAL.

Featuring interviews with former employees, fellow musicians, family members and journalists, and supported by original and exclusive never-seen-before footage, this star-studded rockumentary offers a fascinating insight into the creation and recording of one of the most ground-breaking and influential albums in pop history.

BONUS MATERIAL:
1) Liverpool/London Introduced by Alan G. Parker

2) Director and Producer interviews

3) The Bootleg Beatles

4) Andy Peebles John Lennon Interview December 80

5) Pete Best Interview at The Hard Day's Night

6) Julia Baird (John Lennon's sister) Interview

7) John Lennon Blue Plaque

8) The Merseybeat

9) Ringo archive interview

Related Websites:
http://www.kaleidoscopehomeentertainment.com/movie/it-was-fifty-years-ago-today-the-beatles-sgt-pepper-beyond/
http://50yearsago.com/about.html

Distributor:
Kaleidoscope Home Entertainment