The Libertines: There are no Innocent Bystanders flies onto DVD this May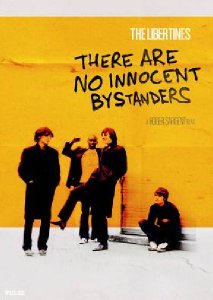 Here is some good news for fans of rock band The Libertines, as independent Pulse Films have decided to release and market music documentary
The Libertines: There are no Innocent Bystanders
themselves here in the UK.
The company develops film projects from inception, arranging finance and then devising the distribution and release strategy, or so the blurb here says anyway. Future offerings will include
Werewolves Across America
,
LCD Soundsystem: Shut Up and Play the Hits
,
RBMA: Let Us Be Golden
, Gael Garcia Bernal's
Who Shot Dayani Cristal
, and other work with artists such as Suede and Bjork.
But we digress, back to the title at hand, this DVD is out on 7th May and will be available through direct-to-fan music company
PledgeMusic
.
Directed by Roger Sargent, with producers David Standen, Jamie Clark and Thomas Benski, this documentary is one fans are probably not going to want to miss.
Synopsis follows...
THE LIBERTINES: THERE ARE NO INNOCENT BYSTANDERS is an engaging and honest music documentary by legendary photographer turned filmmaker, Roger Sargent. A must-see for all fans of The Libertines, the film offers an intimate look at the band's 2010 reunion with unrivalled access, starting at Sargent's NME cover shoot announcing the big festival appearance at Reading and Leeds, through the rehearsals and celebrated warm up shows, to being on stage on the big night.
Sargent's relationship with the band has enabled him to create the definitive film about arguably one of the most influential groups of its generation, exploring the passion, drive, love and laughter of The Libertines' story. He successfully unlocks the personalities and relationships of the band and navigates the viewer through the tensions behind this most celebrated and hotly debated of reunions.
Narrated by the band in their own words, the film spans the period of time from the announcement of the reunion to the weekend of the Reading and Leeds festivals - their first 'on the road' experience together for six years. With this as a backdrop, Sargent explores the history of the band, allowing them to intimately discuss how they became what they are and revealing untold stories along the way.