Don't Look Back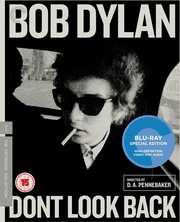 Certificate: TBC
Running Time: 96 mins
Retail Price:
Release Date: 17/10/2016
Content Type: Movie
Synopsis:
Bob Dylan is captured on-screen as he never would be again in this groundbreaking film from D. A. Pennebaker. The legendary documentarian finds Dylan in England during his 1965 tour, which would be his last as an acoustic artist. In this wildly entertaining vision of one of the twentieth century's greatest artists, Dylan is surrounded by teen fans, gets into heated philosophical jousts with journalists, and kicks back with fellow musicians Joan Baez, Donovan, and Alan Price. Featuring some of Dylan's most famous songs, including "Subterranean Homesick Blues," "The Times They Are A-Changin'," and "It's All Over Now, Baby Blue," Dont Look Back is a radically conceived portrait of an American icon that has influenced decades of vérité behind-the-scenes documentaries.
Special Features:
•New, restored 4K digital transfer, approved by director D. A. Pennebaker, with newly restored monaural sound from the original quarter-inch magnetic masters, presented uncompressed on the Blu-ray
•Audio commentary from 1999 featuring Pennebaker and tour manager Bob Neuwirth
•65 Revisited, a 2006 documentary by Pennebaker
•Audio excerpt from a 2000 interview with Bob Dylan for the documentary No Direction Home, cut to previously unseen outtakes from Dont Look Back
•New documentary about the evolution of Pennebaker's filming style
•Daybreak Express (1953), Baby (1954), and Lambert & Co. (1964), three short films by Pennebaker
•New conversation between Pennebaker and Neuwirth about their work together
•Snapshots from the Tour, a new piece featuring never-before-seen outtakes from Dont Look Back
•New interview with musician Patti Smith
•Conversation between music critic Greil Marcus and Pennebaker from 2010
•Alternate version of the film's "Subterranean Homesick Blues" cue card sequence
•Five audio recordings of Dylan songs not used in the film
•Trailer
•PLUS: A booklet featuring an essay by critic and poet Robert Polito

Video Tracks:
4:3 - 1.33:1 Black and White

Directed By:
D. A. Pennebaker

Starring:
Bob Dylan
Joan Baez
Donovan
Alan Price
Albert Grossman
Bob Neuwirth

Music From:
Bob Dylan
Joan Baez
Donovan

Director of Photography:
D. A. Pennebaker

Editor:
D. A. Pennebaker

Producer:
Albert Grossman, John Court, Leacock-Pennebaker and Inc.

Distributor:
Criterion