Sounds Like Teen Spirit: Stolen Melodies, Ripped-off Riffs, and the Secret History of Rock and Roll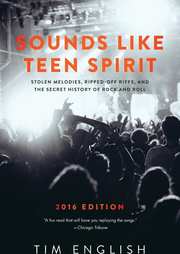 Authors:
Tim English

Retail Price (Hardback): Retail Price (Softback):
£18.00
Retail Price (Ebook):
£10.79
ISBN: First Published:
Related Websites:
http://soundsliketeenspirit.com/

Description:
Stolen MusicHave you ever heard a song and thought "Hey, they ripped that off!"? Sounds Like Teen Spirit: Stolen Melodies, Ripped off Riffs, and the Secret History of Rock and Roll 2016 Edition is the first book EVER to examine the phenomenon of songs that appear to have "borrowed" their melodies from earlier songs.

Did you know?That a novelty song his father recorded might have inspired John Lennon's "Imagine?"

That the explosive guitar riff that powered Nirvana's "Smells Like Teen Spirit" was inspired by Boston's "More Than a Feeling?"

That Bob Marley's song "Buffalo Soldier" shares its melody with the theme song of The Banana Splits, a 1960s kids TV show?

Never hear them the same waySounds Like Teen Spirit dissects recent cases of musical plagiarism involving Coldplay, Robin Thicke, Sam Smith and Mark Ronson as well as songs by the Beatles, Bob Dylan, The Rolling Stones, Bruce Springsteen and the most notorious of all musical thieves, Led Zeppelin.