Music documentary Talihina Sky: The Story of the Kings Of Leon released on DVD and Blu-ray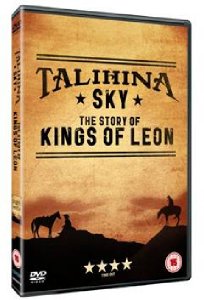 TALIHINA SKY: THE STORY OF KINGS OF LEON

"ONE OF THE MOST COMPELLING MUSIC DOCUMENTARIES YOU WILL EVER SEE"

MTV



"The film strikes gold…"

The Guardian



Revolver Entertainment are proud to present the release of Talihina Sky: The Story of the Kings Of Leon. Available on DVD, Blu Ray, on demand and download ahead of the Christmas rush.
Talihina Sky: The Story of Kings of Leon is a unique insight into one of the biggest bands on the planet. Now a global phenomenon, the film charts their lives from their humble beginnings in the deep South, through alcohol, recreational drugs and most importantly, the rock n' roll that would make them superstars, to signing a record deal and selling out stadiums worldwide.
Featuring interviews with the full band - Caleb, Nathan, Jared, and Matthew Followill, plus exclusive footage of other family members and influential figures in the band's lives and career, this is the first time their tremendous journey has been documented. Talihina Sky is the definitive story of the Kings of Leon, told in their own words.
"10 years ago I witnessed the creation of this family band in their mother's Tennessee garage. Even then, I was fascinated by their strict Pentecostal upbringing and the eccentric and colorful characters
that make up their family. There was no doubt in my mind that they would become one of the biggest rock bands in the world. My goal with this film was to document the roots of their music and how rock-n-roll transformed their lives. I am proud and honored to share the story of Kings of Leon."
- Stephen Mitchell, Director