Here come the Men in Black 2 on Blu-ray this May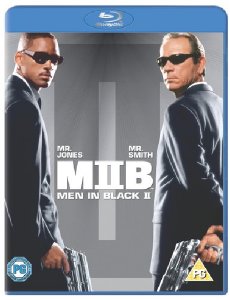 Clearly in no way related to the forthcoming second sequel about to hit the cinemas, oh no, yes folks
Sony Pictures Home Entertainment
are releasing
Men in Black 2
on Blu-ray this 7th May, joining the original that is already available to buy.
Starring Tommy Lee Jones and Will Smith, this action/adventure comedy comes with collectible packaging, as does a re-release of the original.
Extras include a director's commentary track, alternate ending, blooper real and music video, because every Will Smith film has a Will Smith music video.
The re-packaged first movie also comes with a director's commentary track, deleted scenes, trivia game and interactive game.
Men in Black 2
will retail for £12.99, whilst a
Men in Black 1 & 2
combo pack will be on shelves for an RRP of £19.99.
Synopsis, as always, follows:
A team of black suited, Ray-ban sporting, top-secret agents in the unofficial government agency, Division 6, have a mission: to monitor extra-terrestrial activity on earth, or as they put it "protecting the earth from the scum of the universe."

Both releases are directed by Barry Sonnenfeld (Wild Wild West, RV), and produced by Walter F. Parkes and Laurie MacDonald (both Dinner for Schmucks).